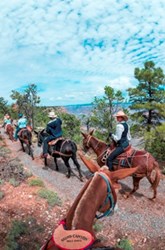 Mules have long been an important part of the Grand Canyon's rich history, and these large, sturdy creatures have been a valuable and much-loved traveler attraction since they were first offered to visitors in 1887.
Grand Canyon, AZ (PRWEB) August 27, 2013
For the first time in 116 years, Grand Canyon mule-riders will be able to take in the breathtaking vistas of Grand Canyon National Park while traveling along the rim of the canyon. Concessioner Xanterra South Rim is offering a new four-mile, three-hour mule ride that departs five miles east of the historic Grand Canyon Village in the park. The interpretive Canyon Vistas Mule Ride replaces the Abyss Overlook Mule Ride that had been operated since October 2009.
The mule ride includes two hours in the saddle plus an interpretive van ride from the Grand Canyon Village to the Yaki Barn – the point where mules depart – and back. The mule riders travel along a new East Rim Trail built by the National Park Service. Wranglers stop six times along the trail to provide interpretive information about the geologic formations, human history, fire ecology and more.
"Mules have long been an important part of the Grand Canyon's rich history, and these large, sturdy creatures have been a valuable and much-loved traveler attraction since they were first offered to visitors in 1887," said Jon Streit, general manager of Xanterra South Rim, operator of mule rides, overnight accommodations, restaurants and activities in Grand Canyon National Park. "We are indebted to the National Park Service for its enthusiasm and hard work in creating this new trail and assisting with the development of the interpretive material."
The interpretive mule ride is offered at the Yaki Barn up to two times each day for rides for up to 20 riders per departure. The mule ride follows the new East Rim Trail where guides discuss various geologic formations, the Colorado River where John Wesley Powell made his successful navigation in 1869, the area's native peoples, the surrounding forest and more.
From March 15 through Oct. 31 the Mule Ride departs at 9:00 a.m. and 1:00 p.m., and from Nov. 1 through March 14 the ride departs once each day at 10:00 a.m. The cost of the ride is $114 plus tax. Water and water bottles are included. Rain jackets are available on the ride as well.
Riders must check in at the Bright Angel Lodge's transportation desk the day before or at least two hours before departure time on the day of their ride and then be at the main livery barn in Grand Canyon Village 30 minutes before departure. An interpretive van ride to the Yaki Barn and back is included in the ride.
All levels of riders are welcome, but they must weigh less than 225 pounds fully dressed and be least 4 feet, 7 inches tall. Each rider must be able to speak and understand fluent English and be in good physical condition. Long sleeve shirts, long pants, hats and close-toed shoes are required. Riders should not be afraid of heights or large animals. Riders cannot be pregnant.
More than 600,000 people have taken Grand Canyon mule rides since they were first offered in 1887. In 1904 the Fred Harvey Company became the exclusive provider of mule rides at the South Rim of the Grand Canyon. Xanterra Parks & Resorts, then known as Amfac Parks & Resorts, purchased the Fred Harvey Company in 1968.
Here is some additional Grand Canyon mule lore:

Captain John Hance was the first white settler at the Grand Canyon, and he was the first to offer mule rides, starting in 1887 at what he called Hance Trail.
Built in the 1920s, the Yaki Barn is located on the free shuttle route and is one of the few remaining early buildings not located on the rim. The area is popular as it is located near the South Kaibab Trail. In fact, the South Kaibab Trail was originally named the Yaki Trail.
Peter Berry, along with brothers Niles and Ralph Cameron, widened the Bright Angel Trail and built a camp at Indian Garden. They then turned the trail into a toll road and charged $1 a head, man and mule alike, for the next 23 years until 1928.
A mule is the result of a male donkey mating with a female horse.
Mules are well-suited for traversing the Grand Canyon. They are three times as strong as a horse and more sure-footed. Their eyes are also located on the outside of their heads, a characteristic that allows them to see all four of their feet, something that comes in handy on narrow trails with little margin for error.
Mule rides may be reserved by calling 1-303-297-2757 or toll-free within the United States at 1-888-297-2757.
In addition to the mule rides, Xanterra South Rim operates six lodges in Grand Canyon Village as well as a variety of interpretive motorcoach tours, restaurants and gift shops.
Visitors can book their rooms online by visiting http://www.grandcanyonlodges.com or by calling toll-free 1-888-297-2757 or 1-303-297-2757 from outside the United States. You can learn more about the park by visiting http://www.nps.gov/grca.
###
Known for its "Legendary Hospitality with a Softer Footprint," Xanterra Parks & Resorts® entities include lodges, restaurants, tours and activities in national and state parks and resorts as well as a cruise line, railway and tour operator. Xanterra Parks & Resorts has operations in the Grand Canyon, including Grand Canyon Railway and The Grand Hotel in Tusayan, Ariz.; Yellowstone; Zion; Crater Lake; Rocky Mountain and Petrified Forest National Parks; Mount Rushmore National Memorial; Furnace Creek Resort in Death Valley National Park and five Ohio State Park Lodges as well as the Geneva Marina at Ohio's Geneva State Park. Xanterra Parks & Resorts also operates Kingsmill Resort in Williamsburg, Va., Windstar Cruises and VBT Bicycling and Walking Vacations.