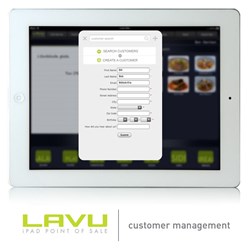 ... Restaurant owners or their marketing companies can send targeted offers based on customer order history...
Albuquerque, NM (PRWEB) August 29, 2013
New customer management features added to the latest Lavu iPad POS release allow businesses to keep track of customer information, as well as a history of what they ordered. These tools can be accessed both within Lavu POS terminals and the management control panel. This customer data is valuable for marketing, serving repeat customers and implementation of loyalty programs.
Input fields displayed at the register can be customized and set in the backend control panel. Customer information can include: customer name, street address and zip code, order history, company name, email, birthday for special offers, and "how did you hear about us," which is valuable for marketing and customer loyalty purposes.
"With these features, restaurant owners or their marketing companies can send targeted offers based on customer order history," said Corey Fiala of Lavu Inc. "So if you know a customer has a birthday coming up, you can send them a strategic offer that might bring them in with a group of their friends - who are also potential new customers."
Building a customer database allows business owners to know their target demographics. Knowing what areas of town the majority of customers are from may help with decisions about where you want to advertise or expand locations, or for planning delivery routes.
Another recent release from Lavu Inc is their customer facing Registrar App. Lavu Registrar also runs on iPad and iPad mini and lets customers add themselves to the database (email, phone, etc) for exclusive marketing or loyalty offers. Other potential uses for Registrar include the ability for patrons to sign a waiver, for businesses who have that need.
About Lavu Inc.
Founded in Albuquerque, NM and operating worldwide, Lavu, Inc. was formed as a solution to common point of sale problems and restaurant industry issues. Lavu, Inc. offers POS Lavu as full-featured point of sale software solutions at a fair price. Through cloud computing, wireless mobility, and multi-touch devices, Lavu redefines the entire approach to restaurant business management with their iPad POS for restaurants.