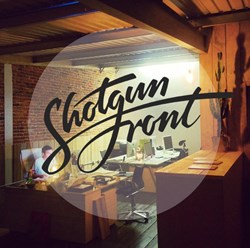 The working environment of a creative agency isn't just about a space for meetings, office equipment and staff, It's a perception of you.
Christchurch, Dorset (PRWEB UK) 28 August 2013
Bournemouth Advertising Agency Shotgun Front have now officially relocated to their office studio in Dorset. The warehouse style space started out as a blank canvas giving the team the opportunity to build their ideal work environment. The agency want to illustrate they're sustainable and environmentally conscious by choosing to use only reclaimed materials while developing this space. The new office has given Shotgun Front the freedom to communicate their attitude, values and beliefs through the space. The agency are confident that a carefully thought-out workspace will help to encourage unique ideas and further collaboration on projects, alongside supporting the environment.
Richard Hull, Managing Director - Shotgun Front, believes in the three C's of office design, Concentration, Collaboration and Contemplation. 'I believe a creative working space should be the total opposite to your conventional office. The working environment of a creative agency isn't just about a space for meetings, office equipment and staff, It's a perception of you. The location, surroundings, and your team should reflect and define your passions and the companies values and beliefs.'
The Christchurch Website Design company have focussed on open plan areas to encourage the team to work in the same space. Consequently they have introduced a central zone of the office to promote concentration while still allowing for collaboration when necessary. The desks are oversized compared to those typically found in a standard office, giving the team a generous space to create. Plants will be strategically positioned throughout the central concentration zone, the agency understand that the presence of office plants has a range of benefits such as helping to manage considerable workloads and lowering stress levels.
The collaborative area has been carefully positioned away from the concentration zone, and will boast warmer lighting, a relaxed feel which allows the team to step away from their desks during the day and discuss ideas freely. The agency have focussed on the key features that encourage a collaborative office space, by using a common open plan area. This section of the office will include floating book shelfs, persian rugs, danish inspired sofas, characterful deer skulls, an ercol coffee table and collections of art created by the team reflecting their passion for creative ideas, art and design.
The Marketing Company in Dorset believe that this new environment will create inspiring surroundings that will liberate the team to develop their artistic standards, generate ideas and reflect their passion for their clients work. The freedom of space will feed creativity and aid in motivation to enjoy the new office and ultimately enhance productivity.
So what's next for the agency? Shotgun Front have now settled into their new bespoke office environment in Christchurch, however the team plan to continually develop and adjust their creative space. Following this will be the highly anticipated launch of their new website, which will showcase unprecedented insight into their clients performance, metrics and actual revenue growth which they are understandably excited to share.
To find out more about Shotgun Front, visit http://www.shotgunfront.com or email the Director richard.hull(at)shotgunfront(dot)com.