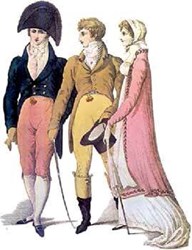 If you have ever seen a movie based on a Jane Austen novel like Pride & Prejudice, you will be learning some of those dance moves. - Leisa Greathouse, Curator of Education
Fayetteville, NC (PRWEB) August 27, 2013
Greater Fayetteville - If you've ever wanted to try some of the early 19th century dances, on September 7th, you'll have your chance. On that day, the Museum of the Cape Fear Historical Complex hosts the "Festival of Yesteryear" from 10 am to 5 pm and a "Regency Ball" from 6 pm to 8 pm. All events are free and open to the public.
Both events highlight United States history from the Revolutionary War to the War of 1812. Activities through the day include fire pit cooking, "Apprentice Alley" where children learn colonial trades, musicians, games and more.
At 3 pm, the Regency Assembly of North Carolina leads a dance workshop. "The dance workshop is for people to learn a few dance movements, so they will be comfortable dancing at the ball," says Leisa Greathouse, Curator of Education and coordinator of the event. "If you have ever seen a movie based on a Jane Austen novel like Pride & Prejudice, you will be the learning some of those dance moves."
At 6 pm, the ball starts at St. Michael the Archangel Maronite Catholic Church, across the street from the Museum. Music will be performed by Syllabub and the dances called by Jack Maus. Sylabub is a trio of musicians that specialize in the music of the era, and they often work with Maus. "They are an excellent team," says Greathouse.
For more information, visit http://bit.ly/Regency-Ball or contact Leisa Greathouse at leisa(dot)greathouse(at)ncdcr(dot)gov; call (910) 486-1330.
This festival is part of the North Carolina's official LaFayette Birthday Celebration. Learn more about the weekend schedule of special events honoring the birthday of Fayetteville's namesake here.
Interested in learning more about our Revolutionary War history? Check out our American Independence or Marquis de LaFayette Cultural heritage Trail at http://www.VisitFayettevilleNC.com/culturalheritagetrails/.
About the Museum of the Cape Fear Historical Complex:
The Museum of the Cape Fear Historical Complex, located on the corner of Bradford and Arsenal avenues in Fayetteville, is open Tuesday through Saturday from 10 a.m. to 5 p.m., and Sunday from 1 p.m. to 5 p.m. The museum is part of the Division of State History Museums, Office of Archives and History, within the North Carolina Department of Cultural Resources. To learn more, visit http://www.ncculture.com/.
About the FACVB:
The Fayetteville Area Convention & Visitors Bureau is a private, not-for-profit organization responsible for positioning Fayetteville/Cumberland County as a destination for conventions, sporting events and individual travel. For additional information, visit http://www.visitfayettevillenc.com or call 1-800-255-8217. Fayetteville/Cumberland County is America's first military sanctuary. Through the Army's Army and other volunteer groups, our citizens and businesses are dedicated to "watching over those who watch over us ©."