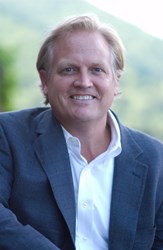 Engaging employees is a business imperative. Inspiring courageous behavior at work is the key to engaging people's hearts, minds, and hands.
Chicago, Illinois (PRWEB) August 29, 2013
Our expectations for leaders continue to grow more demanding and complicated each day. International best selling author, Bill Treasurer, feels that the expectations of what it means to be a leader have been unrealistically inflated beyond everyone's reach. Treasurer, author of "Courage Goes to Work" says that the most important of all business virtues is courage, and that it's the duty of every leader to build workplace courage. Treasurer has been selected as the keynote speaker for the Human Capital Institute's Employee Engagement Conference at the Palmer House in Chicago September 23-25, 2013.
"I believe in the work of HCI and am honored to be able to present during this year's conference," says Treasurer. "Engaging employees is a business imperative. Inspiring courageous behavior at work is the key to engaging people's hearts, minds, and hands."
Sharing from his experience working with thousands of employees across the world, Treasurer will provide specific tips on inspiring more courageous and engaged behavior, understanding the impact of fear on performance as well as how to engage people by modulating comfort and discomfort.
"Smart organizations invest in employee training in such things as conflict management, leadership effectiveness, and negation skills. But until now, they've not been able to invest in courage-building training because there haven't been any courage-building training programs to invest in. In my talk I'll share how by first building workplace courage allows all those other training programs to be more powerful."
Other presenters for the conference include Cathy Benki, Vice Chairman and Managing Principal at Deloitte LLP; Monika Fahlbush, SVP Global Employee Success, Salesforce; Ellie Gates, Director of Management Effectiveness & Performance, Adobe; Janice Weiss, Director of Recognition and Engagement Marketing, Macy's Inc.; Ginger Gregory, Chief Human Resources Officer, Dunkin' Brands, Inc.; Ed Martin, Chief Learning Officer, Pandora; and Lisa Lewis, Manager, Organizational Change Management, Mercedes-Benz Financial Services.
Human Capital Institute serves as a global association for strategic talent management and new economy leadership. Information on the HCI Employee Engagement Conference including registration information can be found on the HCI website.
Bill Treasurer is the author of Leaders Open Doors, which focuses on how leaders create growth through opportunity. Bill is also the author of Courage Goes to Work, an international bestselling book that introduces the concept of courage-building. He is also the author of Courageous Leadership: A Program for Using Courage to Transform the Workplace, an off-the-shelf training toolkit that organizations can use to build workplace courage. Bill's first book, Right Risk, draws on his experiences as a professional high diver. Bill has led courage-building workshops for, among others, NASA, Accenture, CNN, PNC Bank, SPANX, Hugo Boss, Saks Fifth Avenue, and the US Department of Veterans Affairs. Treasurer is founder and Chief Encouragement Officer of Giant Leap Consulting.