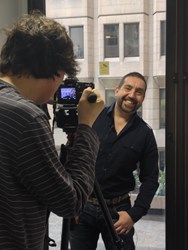 I am damn well going to change this recruitment industry.
London, UK (PRWEB UK) 28 August 2013
Superstars is pleased to announce that it has joined the Telegraph Business Club. The founder of the innovative staffing company, Stevie Hutson, was invited to take part in the Daily Telegraph's Business Club strand which showcases businesses with interesting and individual stories to tell.
With the help of documentary filmmakers Tracc Films, Stevie and the Superstars team produced a short film that is published today on Telegraph Business Club. In it, Stevie explains how the way Superstars' agents get to know their Talent is the key to the company's success at finding the best people to fulfill the most demanding roles.
"We have to accept that recruitment is changing," explains Stevie. "It's not just about pieces of paper and a candidate and how much money I'm going to make out of this person. It's about 'I need to find a talent that's going to be someone I want to look after until they retire' That's why I want to be the agent for that person. They become a friend."
Stevie launched Superstars in 2010, an antidote to the margin-driven agencies with which he had become disillusioned. Since then, the company has expanded with a presence in London, Manchester and New York and provides staff to several blue-chip clients.
Richard Ogley is Creative Director at a major media company. He wanted to appear in the video and speak about the difference Superstars has made to finding the right staff.
"Stevie actually knows everybody. He knows who they are, he knows their names and has met with them on an individual basis. He has certainly vetted them before they come to me," he explains. "A lot of agencies don't do that - they just pass on CVs and you have to do a lot of the leg work to actually filter those CVs and make sure that the people coming through are the right sort of people."
Alethea Sibois, Corporate Relations Director of Hult International Business, also contributed to the film.
"It's almost like if you are recommending a friend. I trust who Steve puts forward and it's more about getting to know the talent and having mutual beneficial solutions - really working on being a partner with the company and the talent."
Jacqueline Shepherd is a former recruitment consultant who now presents Colourful Life on digital radio station Colourful Radio, where Stevie appears once a month to discuss the world of employment and offer job hunting advice to listeners.
"I have hands-on experience of how recruitment can treat individuals as a number," said Jacqueline.
"I think Stevie has made people realise that they are what is going to get the job, rather than just what is on the CV. He's a really big champion of people."
"When I meet our talent, the energy I get from that is incredible," said Stevie "I am damn well going to change this recruitment industry because it is actually a fantastic industry and if you do it right you get many moments of great happiness."
The video is now available to watch at http://www.telegraph.co.uk/finance/businessclub/business-club-video/business-services-sector-videos/10268789/home-superstars.html.
Superstars is based on a unique new staffing model that eliminates fees and margins forever. Clients work with Talent Managers to get the best staff for their needs and the Talent get amazing opportunities and the best support and mentoring in the industry.
To find out more about Superstars' unique staffing model and how it can transform the way you hire staff, contact Stevie Hutson - steve(at)homeofsuperstars(dot)com or visit http://www.homeofsuperstars.com/.