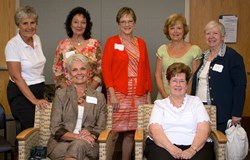 I thought it was really wonderful that we had a group like this that started here in Williamsport and what a great opportunity it would be to have these moms join us at Baby Café.
Williamsport, PA (PRWEB) August 27, 2013
Susquehanna Health (SH) celebrated World Breastfeeding Week in August with a very special gathering of multigenerational moms. The idea for the event was born out of a conversation between Natalie McCullen, RN, Lactation Consultant at Susquehanna Health's Birthplace and a founder of the original Williamsport Nursing Mother's Group (WNMG), Janet Harrison, during a Lycoming Clinton Breastfeeding Coalition meeting.
The two women decided it would be encouraging to bring together the moms from the WNMG and the new moms who currently attend the SH Baby Café group for a time of discussion. A grassroots effort, WNMG grew from a suggestion made to Harrison by pediatrician Dr. Robert Vanderlin in the early 1960s. According to Harrison, Betsy Rider was also instrumental in founding the original support group for moms. They invited new moms, nursing moms and moms-to-be to the monthly evening meetings which covered a relevant topic from pregnancy to weaning. "The wonderful thing about this group was that we had people from every socioeconomic range with different reasons for choosing breastfeeding," said Harrison.
The regular meetings and range of topics birthed an idea for developing a booklet as a guide for mothers entitled, "You Can Nurse Your Baby!" Harrison and Rider worked with three other women to write the booklet, which included helpful information such as what to expect during pregnancy, during the hospital stay and after returning home. The booklet was reviewed by Dr. Vanderlin and Dr. Philip Nelson (OB/GYN) and approved by the Lycoming County Medical Society for distribution to local doctors' offices and hospitals. Later, and as a regular practice, WNMG moms offered the booklet as a resource when they visited new moms at Williamsport Hospital (now Williamsport Regional Medical Center) and Divine Providence Hospital to help coach them in the art and science of nursing their babies. But the greatest impact the group made, according to Harrison, was contributing to "success in breastfeeding for many women who might have otherwise gotten discouraged."
"I thought it was really wonderful that we had a group like this that started here in Williamsport and what a great opportunity it would be to have these moms join us at Baby Café," said McCullen. "A few of the women from the original group hadn't seen one another for years. It was a time of reuniting for them, while they shared with our new moms how some things have changed over the years, yet some things remain the same." The WNMG moms shared stories about an era when little support was available for breastfeeding moms. "What they seemed to find most helpful at that time was to reach out to each other," McCullen explained.
Last year, SH's New Mothers Support Group grew into Baby Café, a weekly discussion group for new and experienced moms to exchange tips about breastfeeding, obtain support or discuss parenting concerns with other moms. The group is facilitated by a board certified lactation consultant and meets in a safe, relaxed and child-friendly environment. Groups are held at the Williamsport Regional Medical Center and James V. Brown Library.
Becky McKeirnan has attended the Baby Café group for about a year, following the birth of her son in July 2012. "I had some initial trouble with breastfeeding, so [Baby Café] was nice because I needed the help. It was also great to meet other people who were breastfeeding, because I didn't know many who did," she said. McKeirnan explained that one benefit of the group is that it provides a non-threatening means for obtaining advice for normal parental concerns as well as a resource for when professional health care is warranted.
For WNMG member Linda Lynn, meeting together after many years "was an overwhelming deja vu moment." Most of the original members of her group are parents of adults in their 40s, yet they were able to offer encouragement to moms of newborns. "We truly became a support group for many things," Lynn reflected. "Many of these women [from WNMG] are still very dear friends today because of that bond."
Lynn said she appreciated the opportunity to meet with young moms who have chosen to breastfeed their children. "It was wonderful to have a gathering of younger and older moms. I just loved seeing the rapport among the moms, and the babies were just adorable," she said. "I thoroughly enjoyed it, and being with the women I haven't seen for years was truly heartwarming."
Longterm, McCullen said she hopes that the availability of peer support and education about the health benefits of breastfeeding will help normalize nursing for mothers of young children in the community. "Some moms who are nursing their babies feel like they can't leave the house because they aren't sure where they could go to feed them," said McCullen. "We hope to help moms feel more comfortable about going out and getting together." For more information about Susquehanna Health's Baby Café, visit SusquehannaHealth.org or call 570-321-2069.
About Susquehanna Health
Susquehanna Health is a four-hospital integrated health system including Divine Providence Hospital, Muncy Valley Hospital, Soldiers + Sailors Memorial Hospital and Williamsport Regional Medical Center located in north central Pennsylvania. Serving patients from an 11-county region, Susquehanna Health is a healthcare leader and has been recognized at the national and state levels for quality of care. Susquehanna Health offers a wide array of services that include cancer care, heart and vascular care/heart surgery, neurosciences including neurosurgery, orthopedics, urology, OB/GYN, gastrointestinal services, behavioral health, physical rehabilitation, home care, long term care, assisted living and paramedic/ambulance services.