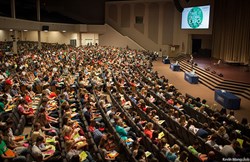 Lynchburg, VA (PRWEB) August 27, 2013
Liberty University's Center for Global Engagement (CGE) held its annual global-focused informational meeting, "Take it Global Expo," Monday night at Thomas Road Baptist Church's (TRBC) worship center. More than 2,000 students attended.
Johnnie Moore, Liberty's vice president for communications, challenged students and recruited them to join in the university's efforts to fulfill the Great Commission.
"This is the first generation where we can actually reach the entire world," Moore said. "God has raised up Liberty University as the largest Christian university in the world at this moment."
The CGE presented a newly produced documentary about the department, "The World is Open," and unveiled the groups (called Global Teams) that will be travelling to 19 different countries this academic year. CGE staff members also spoke about short-term intercultural opportunities, Global Internships, Global Studies (majors and minors), Global Next Steps Retreats, and Global Jobs. After the presentations, students were able to visit each team's table and speak with CGE staff and faculty.
Earlier in the day, students were encouraged to start thinking globally during Monday's Convocation.
Alumnus Albert Mavunga ('08), founder of Smile for Africa, an organization that works with orphans and children affected and infected by HIV and AIDS, shared a brief testimony and encouraged students to follow God's calling in faith.
"Imagine (God's calling), be strong and courageous, and go for it," Mavunga said.
Students also enjoyed special music by India's world-record-breaking traveler and musician, Benny Prasad, who shared the Good News through song in 245 countries over a span of six-and-a-half years, starting May 1, 2004.
Alumnus Vernon Brewer, founder and president of World Help and Liberty's first graduate, was the main speaker for Convocation. He shared his vision for taking the Gospel to the ends of the earth. He also challenged new students to make the most of their education at Liberty and to become equipped to be world changers. (View Brewer's message on Liberty's YouTube channel.)
"You have decided to come to the world's largest evangelical university where you'll be trained to scale unimaginable heights," he said. "Will you use all four years to discover how you can impact your world? Will you climb into the unknown like so many Liberty University students before you, even in the face of uncertainty, or will you play it safe? In your moment of truth, what will you choose?"
The Center for Global Engagement strives to both educate and engage Liberty students in global affairs through academic programs, short-term mission trips, cross-cultural internships, and other resources. No matter what a student's abilities or education may be, CGE believes every Christian is called to follow the Great Commission and engage in global work. It seeks to provide students with the resources to tap into a multitude of opportunities around the world, utilizing their unique skills and personal passions to go into the world and make disciples.
About Liberty University
Liberty University, founded in 1971, is the largest private, nonprofit university in the nation, the largest university in Virginia, and the largest Christian university in the world. More than 100,000 students attend classes on its 7,000-acre residential campus and study in its thriving online education program.