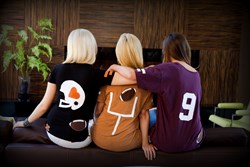 "It's important to G Wear to create a stylish brand that is eco-friendly and unique so we can be sure we do our part to take proper care of the world in which we live," said Michael Wilson.
Dallas, TX (PRWEB) August 29, 2013
G Wear uses cotton t-shirts as a "canvas" and recycled t's as stitched-appliques to create designs that allow the wearer to communicate a relaxed style all their own. With no two shirts being alike, guests visiting the website http://www.myGWear.com can pick their favorite design, shirt color, and style, reflecting their own personality. The new falls lines are no exception.
G Wear's reputation for being fun, fashionable and eco-friendly is growing among fans and is also quickly becoming a celebrity-loved brand. Wives and significant others of professional athletes are starting to request custom designed G Wear t's to show support for their significant others and female professional athletes are excited to wear the t's and show their love for the game.
G Wear began in 2008 as the vision of a local Ft. Worth, Texas eco-friendly fashion designer, Stanley Jackson. His inspiration came from his young daughter, Malerie, who at four years old (with a little help from her Mom), stitched a heart appliqué onto a simple dime store tee shirt. Jackson proudly wore the shirt around town and was always being stopped and asked where he got it. After telling the story over and over, he decided they might be onto something big. He created a few sample designs using appliqués cut from recycled tee shirts. They were an instant hit everywhere he went - hence G Wear was born.
In the early days of the company, G Wear was showcased mostly in boutiques in the Dallas/Ft. Worth area. In order to realize his dreams to see the company grow nationally, Jackson decided to sell his majority interest in G Wear in late 2011 to Michael Wilson, a local Dallas businessman, and member of the 1980 Olympic Gymnastics Team. With an appreciation for Jackson's talent and unique design style, Wilson appointed Jackson to oversee G Wear production & design.
"It's important to G Wear to create a stylish brand that is eco-friendly and unique so we can be sure we do our part to take proper care of the world in which we live, making a better environment for our children now and in the future," says Wilson. "This is also where our commitment to giving back to children and families in need stems."
In addition to working with the Pat and Emmit Smith Foundation, the Lopez Foundation and various non-profits across the country, G Wear's passion for giving back takes root in its ongoing partnership with the Make-A-Wish Foundation of North Texas. A portion of all t's purchased online is donated to the Make-A-Wish foundation, allowing families to help further its mission to "grant wishes of children with life-threatening medical conditions to enrich the human experience with hope, strength and joy."
G Wear is always looking towards the future - creating new designs monthly and developing new products each year. Their licensed sorority line is now on campuses across the U.S. and the company is excited to meet the growing demand for their brand which has appeared on popular blogs across the nation reaching hundreds of thousands of readers and on numerous morning talks shows across the country.
*** Photos and samples available upon request.