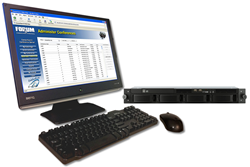 Richardson, TX (PRWEB) August 29, 2013
Forum Communications announced the new Consortium III Conference Server has been released - it's the next generation software based audio conferencing server application from Forum Communications.
The new application is based on the features and functionality of the proven Consortium software application, and expands on that capability with additional features, a new compact server platform, and a new, secure, web services based browser user interface, WebView.
Using VOIP Session Initiated protocol (SIP), integration with your voice network or Unified Communications infrastructure is simple and cost effective. Implement a premised based server or take advantage of a Cloud based service application - either way start improving productivity and saving time, money and travel costs! The new system supports a host of new features, including support for the iPhone and Android Smartphone applications and improved blast dial capabilities. Additionally, the SIP interface to the voice network provides a streamlined cost effective interface, and the system can also support a traditional TDM / T1 interface.
One of the first servers to be deployed was for a large legal firm in Virginia, a long time Forum Consortium customer, having purchased one of the first generation conference servers in 1998. They have upgraded and expanded numerous times over the years, and the Consortium III is now a key element in their new all IP voice network infrastructure.
About Forum Communications
Forum Communications has been at the forefront in Conferencing, Collaboration, and Emergency Response solutions with a commitment to design quality and customer satisfaction since our beginning, over two decades ago. With over 100,000 ports in service for Business, Federal, State and Local Governments, and DOD installations around the Globe, Forum continues to demonstrate our proven commitment to customers with on-going enhancements, innovative feature sets, and award winning product solutions. Forum products are purpose built and designed using the latest in technology and user interface design best practices. From conferencing to emergency response solutions, Forum continues to deliver.
For more information call Forum Communications at (972) 680-0700 or visit our website at http://www.forum-com.com.