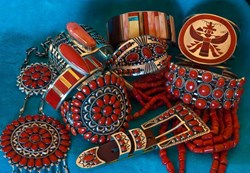 It's gratifying to know that our innovative business model allowing business owners to create an online store for free is significantly contributing to employment creation.
Miami, FL (PRWEB) August 28, 2013
Travel along the Northern Verde region of the U.S. towards Sedona, Arizona and you'll stumble upon a picturesque 12'x12' rustic abode where 70-year-old Matt Wolf manages his online jewelry store, fueling life into the fading Southwestern Native American arts.
Wolf, a retired stock broker, has been collecting fine, handmade Native American jewelry for the last 40 years. After retiring in 1996, he was inspired to dedicate his time and expertise to his online business, Sedona Indian Jewelry, keeping the ancient art form alive.
Devoted to transforming obscurity into international recognition, Wolf's online shop offers unparalleled exposure to over 110 talented Native American artists practicing century's old, handmade Southwestern American crafts. Powering his e-commerce site for free with PrestaShop, Wolf allocates his profits where it matters the most – in the hands of these committed artists.
"PrestaShop makes it possible for real great Native Americans artists, whose work would never leave the Southwest, to be visible around the world and earn the value their rare, beautiful pieces are worth," comments Wolf as he describes the benefits of using PrestaShop.
With pieces retailing up to $35,000, Wolf ships over 30 personally packaged orders every month to customers around the world. Many of the artists featured on his site commit their lives to the heritage art, relying on Sedona Indian Jewelry's sales to improve their way of life, make ends meet and feed their families.
Sedona Indian Jewelry's artists and their masterpieces have gained considerable recognition amongst some of the biggest names in the fashion industry including Calvin Klein, Ralph Lauren and The New York Fashion Society. Sedona Indian Jewelry's more frequent customers are world renowned museums, such as The American Museum of Natural History in New York City, that collect these rare and historical jewelry pieces for public display.
As Wolf reflected on the colossal growth of his e-business, he said, "I'm 70-years-old, you know, I've seen the world in many different ways. Who would have thought I could run an international business, providing these talented artists with the fame they deserve from my 12 foot by 12 foot casita? That's PrestaShop. PrestaShop did that."
Matt Wolf and the 110 Native American artists featured on his e-commerce site are just a glimpse of PrestaShop's global influence on employment and economic growth. During research conducted in August 2013 measuring the number of administrative users per online store, PrestaShop found that for every active store an average of 1.86 individuals are employed. With over 150,000 active online stores, it is estimated that the free and open-source software creates over 279,000 jobs around the world. This does not take into account the ecosystems surrounding these stores such as suppliers, developers and partners.
"PrestaShop is overjoyed to be the backbone of successful e-businesses that support the livelihood of individuals, entire families and in the case of Sedona Indian Jewelry, even cultures. It's gratifying to know that our innovative business model allowing business owners to create an online store at no cost is significantly contributing to employment creation," says Matt Serralta, COO of PrestaShop.
PrestaShop is committed to maintaining user success at the heart of their development efforts. By allowing e-merchants to create and maintain an online shop at no cost, they have opened the doors for thousands upon thousands of individuals to achieve a better life. With their 3 millionth download approaching, PrestaShop is on the fast lane to creating a world with greater economic opportunities.
About PrestaShop:
PrestaShop continues to be the world's most popular Open-source e-commerce solution, powering more than 150,000 stores worldwide. Backed by leading industry partners, PrestaShop ensures easy online selling by providing more than 310 native features that can all be customized to fit the needs of every online business. The growing success of PrestaShop's software is the result of countless code contributions, suggestions, and encouragement from its ever-expanding 500,000 member community. PrestaShop is the proud two time winner of Packt Publishing's Best Open-Source Business Application Awards and a winner of Europe's renowned Bsoco Award in the 2013 CMS category. The PrestaShop team's passion for pursuing excellence is fueled by business owners who desire a free, powerful, and easy e-commerce solution.