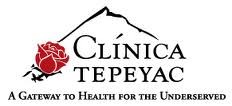 Denver, Colo. (PRWEB) August 28, 2013
Clínica Tepeyac's friends and long-time supporters will honor the non-profit health clinic's proud history of caring for Metro Denver's most vulnerable residents at its annual "Fiesta" fundraising gala. Clínica's 2013 Fiesta Encantada will be held September 28 at 5:30 p.m. at the EXDO Event Center – 1399 35th St., located in lower downtown Denver.
Fiesta 2013 is an opportunity to recognize Clínica Tepeyac's contributors, affiliates and advocates whose support has helped the clinic care for more than 6,000 clients, and nearly 16,000 patient visits annually. More than 600 supporters are expected to celebrate Clínica Tepeyac's legacy of service to the region's medically underserved and uninsured.
Emceed by 9News' Gregg Moss and Belen De Leon, the Fiesta will feature tantalizing Southwestern cuisine for dinner, silent and live auctions, and an impressive array of entertainment, including performances by Mariachi Vasquez, Grupo Folklorico Sabor Latino, The Cleo Parker Robinson Dancers and Trio Encantada.
One of the notable highlights at the Fiesta is the presentation of the Oustanding Community Partner Award. This year, Kaiser Permanent will be honored as Clínica's 2013 Outstanding Community Partner. "Over the past several years, Kaiser Permanente's medical providers have made a major contribution in support of Clínica's mission, not only through the provision of direct medical care, but also through their support of our chronic disease management programs and patient wellness initiatives," said Clínica Tepeyac Founder and Executive Director Jim Garcia.
"We are truly honored to be recognized for our longstanding support for Clinica Tepeyac," said Dr. Jandel Allen-Davis, Kaiser Permanente's vice president of government and external relations. "Kaiser Permanente's mission is to improve the health of our members and the communities we serve. Through making investments in other medical non-profit clinics that predominately serve low-income people in our communities, we can deploy our mission through partnership."
Since 1994, Clínica Tepeyac has provided basic and preventive health care and health education to tens of thousands of uninsured residents across the Metro Area—serving as a critical safety net for those in need and minimizing the collective impact of the uninsured on the region's public health system.
If you are interested in attending the Fiesta, you can reserve your space for $100 per person at Blacktie Colorado; RSVP code: Fiesta2013. People who can't attend the event but still wish to donate to Clínica Tepeyac can do so through the organization's website at http://www.clinicatepeyac.org. For inquiries about Fiesta 2013, contact Yolanda Ortega at yortega(at)clinicatepeyac(dot)org. For more information regarding sponsorship opportunities, call Lucille Rivera at 720-274-2929.