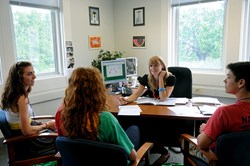 Scottsdale, AZ (PRWEB) August 27, 2013
As reported by Gartner, the Software-as-a-Service (SaaS) market will reach sales of $22.1 billion in 2015.
And businesses alone aren't the only investing in the technology. A growing number of colleges and universities worldwide are quickly discovering the benefits SaaS brings to departmental operations.
From automating the scheduling of academic advising appointments to online document storage, a wide variety of SaaS applications are now available that benefit both campus faculty and students alike. For universities looking for highly scalable, campus-wide solutions, SaaS enterprise packages are becoming very popular.
As the SaaS industry continues to grow, so too does the number of SaaS vendors entering the market. Not all of these vendors offer the same functionality, dependable and experience needed at a university level.
It is, therefore, important that institutes of higher education conduct due diligence when selecting a SaaS provider for their campus needs.
"A SaaS application may be replacing a vital process within a university, so choosing the right provider is of the upmost importance," said Stephen Booze, CIO of Appointment-Plus enterprise appointment scheduling software. "Selecting an inadequate service could have an immediate negative impact."
Here are four things to look for when choosing a SaaS provider:
1. Functionality and Services.
System features are a top consideration. Make certain the selected SaaS system provides all of the necessary functionality needed by your college. Be sure to analyze both current and future needs.
Considerations should include:

Application programming interface (API)
High scalability across multiple campuses.
24/7 U.S.-based customer support.
Integration with existing networks and software programs
Real-time analytics
Additionally, inquire on the company's development process for new functionality. Reputable SaaS companies continually develop and release fresh innovations beneficial to their clients.
2. Stability.
Like small businesses in general, the majority of SaaS companies fail within the first few years of launching. Inquire on how long the SaaS provider has been operating. Long-established companies generally have good track records of service and system development.
For example, Appointment-Plus enterprise software has serviced colleges and universities since 2001. This experience has helped it create the perfect solution for automating student scheduling on campuses worldwide.
3. Security.
As cloud-based programs, most SaaS applications are hosted on off-site servers. This means company and customer information could be vulnerable to hacking. The latest security practices are a must when selecting a SaaS provider. Ask the provider what standard precautions are in place to ensure the safety of client data.
These can include:

Server database, data storage and back-up procedures
System firewalls
Procedures related to failover and federal regulations, if applicable
4. References.
Peace of mind is important when selecting a SaaS provider. Determine if the application is the right fit by speaking with current users within higher education. Reputable SaaS companies should provide these to prospective clients when asked.
Learn how the Appointment-Plus enterprise scheduler can benefit your campus. Call 800-988-0061.
About Appointment-Plus:
Appointment-Plus is a Scottsdale, Ariz.-based SaaS provider named one of America's fastest growing companies by Inc. Magazine and one of the Phoenix metro area's top software firms by the Phoenix Business Journal. It provides over 16 million people access to their online business management software, which specializes in appointment scheduling for customers, staff and resources.
For media and bloggers: If you're interested in interviewing an executive to learn more about Appointment-Plus, please e-mail us at erichard(at)appointment-plus(dot)com. If you're a blogger interested in sharing stories and guest articles, please contact us at the above e-mail.