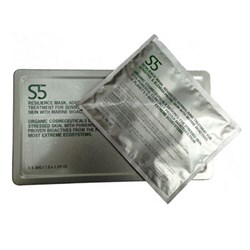 Boasting outstanding detoxifying effects, seaweed (found in S5 Resilience Mask) quickly and naturally purifies skin while transferring essential nutrients to the body.
San Francisco, CA (PRWEB) August 28, 2013
On a daily basis — and especially during the summer months — skin is exposed to multiple stressors: free radicals, temperature fluctuations, pollution, UV and electromagnetic radiation, and a cocktail of chemicals found in many personal care products. With increased exposure and without the right support, chronic stress causes an inflammation cascade that damages skin. Sensitive skin, adult acne, blemishes, hyperpigmentation, extreme dryness or oiliness, redness, and blotchiness, as well as irritation, premature fine lines and loss of texture and tone are all linked to stress. The natural skin care solution? It lies in the sea!
Seaweed, natural nourishment from the ocean, is teeming with countless minerals, vitamins and other beneficial ingredients in high concentrations. Boasting outstanding detoxifying effects, seaweed quickly and naturally purifies skin while transferring essential nutrients to the body. Luckily, you don't have to muck about in low tide this summer to reap the benefits of this magical plant. Ayla (aylabeauty.com) introduces new natural skin and body care launches from S5 Skincare and Voya that feature organic seaweed as their active ingredient.
S5 RESILIENCE MASK
A line of organic cosmeceuticals designed for stressed skin, the S5 natural skin care range now features a new Resilience Mask, which removes daily pollutants and impurities to normalize skin and allow it to more effectively recover from stress. This cooling, peel-off mask, housed in convenient, individual packets, takes skin from reactive to resilient with its key ingredients: Marine Algae to absorb heavy metal ions and protect against the damaging effects of daily pollutants, Marine Diatomaceous Earth (the fossilized remains of hard-shelled algae) to remove impurities from the skin, and Organic Rice, which is rich in antioxidant ferulic acid. $48 for a box of 3.
VOYA SOFTLY DOES IT
Voya's Softly Does It natural body treatment is a potent blend of wild seaweed extracts and nourishing organic oils that deeply moisturizes skin while preventing signs of aging and cellulite. Hand harvested off the coast of Ireland, the 100% organic seaweed is dehydrated within hours to preserve the vital nutrients. The light-textured but mega hydrating formula leaves skin with a bit of a soothing tingle to let you know that it's working, stimulating microcirculation, toning the skin, and improving elasticity. The natural fragrance features a blend of basil, lime, patchouli, mandarin, and lemon organic essential oils. Softly Does It's high aloe content makes it an excellent after-sun soother too. $52.00 7 oz / $22.00 2.75 oz
About Ayla
Ayla is an online beauty retailer that offers consumers personal guidance for natural skincare that works. To ensure its customers get healthy, great-looking skin from the inside out, Ayla combines the best natural, organic, and "nasty ingredient-free" products with expert recommendations and holistic skincare advice. Since 2011, aylabeauty.com has built a loyal following for its highly personalized and convenient experience.