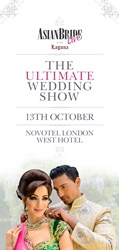 (PRWEB UK) 29 August 2013
Asian Bride Live 2013 held on October 13th at the flagship Novotel Hotel, London is set to host one of the UK's most colourful and exuberant Asian bridal wear catwalk shows ever. The show will be located in the lavish Champagne Suite on the second floor of this renowned venue. It will showcase the most talked about names in Asian fashion to date. With tickets selling fast – the time to purchase is now! The VIP Catwalk tickets are a must have for those brides looking to experience the intensity of the show in a little luxury– enjoy complimentary bubbly and priority seating so you get the full Asian Bride Live fashion experience. Be warned though, VIP tickets are limited so get yours before they are gone!
The catwalk show is set to be nothing short of theatrical, headed up by queen of Asian fashion choreography, Naseeba Sacranie. With over a decade of creative directional experience, Naseeba has become something of a muse in the South Indian fashion and media industries across the UK.
This exhibition boasts a tagline that states it is the ultimate Asian wedding show and with a glittering catwalk showcasing the latest styles from the Couture maestros BIBI London who have become the go-to for brand Eastern elegance, specialising in creating chic, contemporary Indian and Pakistani wear, who can argue?
Pioneers of Green Street, Daminis, who have perfected the art of both children's wear and adult fashion, will be taking to the runway in a range of stunningly, delectable designs, accompanied by another sought after name in couture - Kajal Patel. Kajal effortlessly combines elegance with intricate detailing and Seema Silk Sarees – the name for impeccable design and finesse.
Casual to formalwear giants, Monga's will be leaving an eager audience in complete awe with their breath-taking designs with innate styles of women's wear, along with the prestigious RDC London – who are far from strangers to the runway.
Classic to contemporary design extraordinaire, SF Collection will be illustrating their best of the best in eye-popping bridal and groom wear.
To book your seat for the hottest Asian bridal fashion catwalk of the year, visit http://www.asianbridelive.com.