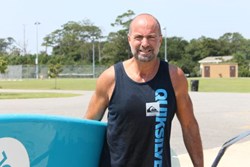 Fayetteville, NC (PRWEB) August 29, 2013
The law firm of Marcari, Russotto, Spencer & Balaban, P.C. is proud to announce that partner David Russotto has achieved world record status by RecordSetter for the most push-ups (60) on a paddleboard in 90 seconds .
Mr. Russotto achieved this feat on August 23, 2013 at the Outer Banks in North Carolina, performing 60 push-ups in 90 seconds on a floating paddleboard. He beat the current record, 51 push-ups, by nine push-ups. In order to achieve Record Setter status, the attempter must use a paddleboard, must perform the attempt in water, must follow RecordSetter push-up criteria and must provide video evidence. Mr. Russotto previously held this record at 49 push-ups.
About David Russotto
David Russotto began his legal career as an attorney with the U.S. Navy Judge Advocate General's (JAG) Corps. He was stationed at Naval Base Norfolk as Defense Counsel and then as Trial Counsel and Legal Services Attorney at Naval Air Station Oceana. In 2000, David helped to form Marcari, Russotto, Spencer & Balaban with a specific goal — to help people seriously injured in car, truck, motorcycle accidents, wrongful death and other cases where he fights for full compensation to help clients rebuild their lives.
Call Marcari, Russotto, Spencer & Balaban toll free at (866) 866-8387 today or contact them online to schedule a free consultation.
Marcari, Russotto, Spencer & Balaban, P.C.
Call the firm:
(866) 866-8387
SE HABLA ESPAÑOL
(866) 408-8188