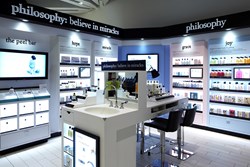 New York, NY (PRWEB) August 28, 2013
Open D Group USA, an international design agency, is pleased to announce the completion of their first design to deliver project in Canada for Philosophy. The shop-in-shop was unveiled on August 15th, 2013 at the Bay at Yorkdale. The Bay is a prominent high-end Canadian department store with 90 stores spanning 8 provinces of Canada. The space tailors to the customers' experience and the high expectations of the Bay shoppers while remaining true to the Philosophy brand identity.
Open D Group's prior experience working with Philosophy on concepts for stores like Macy's created a comfortable environment to facilitate the creative process. Open D Group worked to design a series of concepts for the cosmetics brand which can be adapted to multiple environments while remaining true to Philosophy's brand and values. The original design inspiration was an open book in which each product of the Philosophy line was a new chapter. The book concept was easily adapted to the international market and has proven a successful model for future designs.
While Open D Group has offices worldwide and has completed many international design projects, the design work for Philosophy at the Bay will be the first. This is an exciting new frontier for the design firm who looks forward to completing several other stores or "shop in shop" and case lines for Philosophy at the Bay's other locations.
About Open d Group
Open d Group opened in 2002 in Paris, France and has expanded to become an international design agency with locations in Dubai, Singapore, Hong Kong, Geneva, Beirut, Shanghai and New York. The group has 5 different entities within that specialize in different areas: MAD Agency- Product & Packaging for the Perfume and Cosmetics industry, Sparkle Agency- Product & Packaging for the Wines/ Spirit and Tobacco Industries, Open d Agency- for Visual Merchandising in all Industries, Well Done- for Sourcing & Manufacturing and Retail Access- Interior and Retail. The organization provides solutions for the many design and production needs of a brand.
Philosophy and Open d USA
Open d USA and Philosophy re-invented the global merchandising concept within the guidelines of the retailers in the U.S. such as Macy's, Sephora, Sephora inside JCPenney, Dillard's and Ulta. Open d USA managed the entire project making the agency a one-stop shop for Philosophy's Visual Merchandising Team. The company's signature Methology– Dream up (Creative), Design (Modeling and 3D rendering), and Deliver (Manufacturing and Installation) plus a little bit of Open d's secret sauce helped this project come together successfully.
To learn more about Open d Group in the US, please contact:
Marleny Almonte
636 Broadway, Suite 602
New York, NY 10012
Office: 646-454-9964
mailto:malmonte(at)opend(dot)us