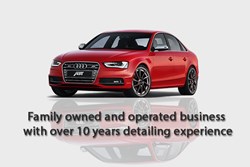 I'm often asked how do we manage to get the vehicles looking so good? So for that reason I decided to share some of my favourite cleaning methods
Brisbane, Queensland (PRWEB) August 29, 2013
Phil Coates established Redlands Mobile Car Wash in 2010 and now employs four people at their base in Thornlands, Brisbane, Queensland, Australia.
The Brisbane car detailing company mainly works on a local basis for customers such as Bayside Print Solutions, Turf Irrigation, Security Ops and Justin Pipe Pty Limited.
When asked what separates Redlands, the Brisbane based mobile car washing company from the competition.
Phil responded "Our level of service is second to none. We offer excellent value for money and always strive for the highest possible standards. Other car detailers in Brisbane can charge much more than we do and often the result isn't as good".
"We always accommodate customers at all times and every day of the week" added the Brisbane mobile car detailing expert.
"I'm often asked 'how do we manage to get the vehicles looking so good?' So for that reason I decided to share some of my favourite cleaning methods" said Phil.
"I hope that anyone who uses our methods to clean vehicles is as pleased with the results as our customers are" added Mr Coates, M.D. of the Brisbane car detailing company.
Phil's top ten tips are as follows:
1. Thoroughly wash the vehicle before applying shampoo.
Use a quality pressure washing machine to make the job easier and quicker.
The vehicle is washed this way to make sure that the majority of dirt is removed or loosened.
Please note that if the car isn't cleaned in this way then dirt can be spread over the bodywork when shampooing the vehicle.
2. When pressure washing the vehicle pay close attention to the door rims. Cleaning these areas thoroughly at this stage will be easier than trying to do it later.
3. If the vehicle has them, treat the alloy wheels with a mild alloy degreaser.
Avoid using heavy wheel acids as they can damage the finish of some mag wheels.
Phil recommends using 101 multipurpose degreaser.
4. Dry the car thoroughly with a shammy leather or microfibre cloth.
5. Vacuum the car.
Take care to vacuum in all the hard to reach areas, move seats back and forward in order to access all the hidden areas where dirt could have collected.
6. Shampoo the seats and carpets.
"Wet and dry vacuums are sufficient, but an industrial shampoo machine will achieve much better results. We use a Pullman shampoo extractor machine," Phil advised.
7. Apply a cleaner to the vinyl services.
"Then use a good quality interior protectant polish. This is important because of the Queensland sun and summer temperatures, vinyl and plastic can become brittle over time so a sun protectant is vital, I would use Maguires," recommends Phil.
8. Apply a good quality polish to the vehicle paintwork.
"I would recommend polishing the paintwork at least every three months," said Phil.
"This will ensure that the shine doesn't fade and will also offer protection against the elements. My favourite polish is 3M because it gives an excellent level of protection with a lasting shine" he added.
9. "Apply a quality tyre shine product to the wheels and shine the alloys with a good quality polish. We use Maguire's Hot Shine because it leaves a lasting shine with added protection," advises Phil.
10. "Most importantly, have one last check over the whole vehicle searching for any bits you've missed and carefully remove," ended Phil.