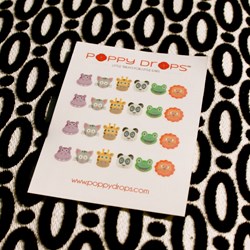 Sure to be a hit in daylight but turn off the lights and watch them GLOW!
Denver, CO (PRWEB) August 30, 2013
Ear piercing & bedtime boogie men have caused many a tear in households around the world. Poppy Drops, known for its ingenious pierce-free earrings, has decided to enlist some friendly animal earrings to scare away any "monsters under the bed" and make parents lives a little easier!
The newest Earring Collection in the Poppy Drops line, full of adorable animal faces, is sure to be a hit in daylight but turn off the lights and watch them glow! This Glow in the Dark Animal Friends Collection consists of twenty-four (24) individual pierce-free earrings, each simply applied like a temporary tattoo with a little water, making them a perfect alternative for independent little ones who want to wear "earrings."
Each earring is intricately designed, lasts through bathing and even swimming, and can stay on little lobes for up to a week! These glow in the dark friends will make a great addition to those adorable Halloween costumes or even an evening by the campfire roasting marshmallows.
In addition to their pierce-free earrings, Poppy Drops' Tattoo Nail Art keeps fingernails fashionable and manicures from getting messy. There are no hair curling odors, harmful chemicals, or fears of spilling because each temporary tattoo requires just a little bit of water to transfer. Each tube carries twenty nail tattoos in designs ranging from adorable bumble bees to flowers and sassy zebra hearts, and can be applied straight to the nail or over polish.
Poppy Drops are proudly made in the USA and are FDA approved and certified by the Consumer Product Safety Commission for use by children.
For more information, visit our website: