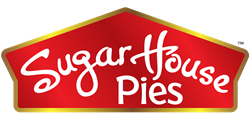 New Caramel Apple is a no-fuss, no-muss treat to be enjoyed anytime.
Salt Lake City, UT (PRWEB) August 31, 2013
Premade desserts don't always require bake time. SugarHouse is excited to develop their thaw and serve line, which is precisely as simple as it sounds. Customers only need to thaw the pastry and they are ready to feed their hungry guests. As long-time suppliers for fruit pies, SugarHouse chefs have had years of experience and have visited with many loyal customers for feedback. They discovered that even though their ready to bake pastries were a convenient solution for busy hosts and hostesses, there was an even easier, more convenient solution. The thaw and serve line of desserts was born, and continues to see growing success.
Pie manufacturers at SugarHouse have recently announced the newest addition to their thaw and serve line, the Caramel Apple Pie. Their traditional Apple Pie frozen desserts have been one of the most popular flavors since the beginning of the company. The new Caramel Apple flavor adds a fresh twist to the taste every American knows and loves. With this new treat, SugarHouse sticks to their reputation as one of the top suppliers for fruit pies in the West. They have selected only the freshest apples ripened to their peak from the most respected apple farms. Loyal SugarHouse Pies customers are already dubbing this new flavor "the best yet" and "heaven in a pie".
The recently-announced Caramel Apple Pie flavor joins an already long list of frozen desserts, ranging from the traditional, household name flavors to more daring twists and combinations. Even as they add new flavors, the pie manufacturers at SugarHouse remain committed to the quality and taste of each of their famed desserts. It has been SugarHouse's mission from the beginning to bring treats "like grandma used to make" to the kitchen table—without the fuss. The brand committed to creating flavors to "stop you shopping cart", and throughout the years, they have done exactly that. The built-from-scratch pastries maintain the home-baked taste and textures, even through their journey from the suppliers for fruit pies' factories to the grocery stores and to families' tables and plates. They truly are flavors that create new traditions.
The experts at SugarHouse pie manufacturers claim that it wouldn't be enough for them to simply provide a good taste if it was too difficult or inconvenient for their customers to access it. Their business is built on the premise of convenience and ease without sacrificing quality or flavor, and that is the goal of the thaw and serve pastries. The Caramel Apple pie is yet another outlet through which SugarHouse aims to simplify pie lovers' lives. They want to simplify the baking process, all while bringing new and original flavors, along with old favorites, to the kitchen table.
For more information on SugarHouse distribution and their "Thaw and Serve" line, visit SugarHousepies.com.