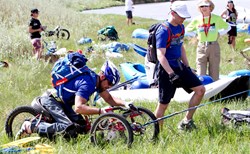 Sporting events for our wounded Special Operations Soldiers provide post rehabilitation support that promotes physical fitness and improves the overall quality of life.
Grand Junction, Colorado (PRWEB) August 29, 2013
An elite group of Army and Marine Special Operations veterans are undertaking their first outdoor sporting competition with World T.E.A.M. Sports' September 13-15 Adventure TEAM Challenge in western Colorado.
The Special Operations Bionic Warriors Team includes five skilled veterans from four states working together to successfully complete the three-stage Challenge in the McInnis Canyon National Conservation Area, a rugged wilderness region of red sandstone desert, deep canyons and sandy trails near the Utah-Colorado border. Unlike other teams participating in this year's Challenge, the Bionic Warriors all are adaptive athletes, having sustained injuries during their service to their nation.
"Sporting events for our wounded Special Operations Soldiers provide post rehabilitation support that promotes physical fitness and improves the overall quality of life," says retired Army COL David MacDonald, the President of the non-profit Special Operations Bionic Warriors. "I have witnessed dramatic positive change, both mentally and physically, with the wounded special operators that participate in sport. This positive change is quite inspirational to me and those special operators that participate in sport."
From the first Adventure TEAM Challenge in 2007, five person military, civilian and corporate teams competing in western Colorado include at least two participants with disabilities. Of these athletes, one must be a wheelchair user. In past events, competitors have included paraplegic and quadriplegic athletes, amputee participants and even blind athletes. Working closely together, the athletes overcome obstacles, solve technical problems and find their way through the wilderness, relying on maps and orienteering skills.
For many of the athletes with disabilities, the Challenge provides an opportunity to return outdoors and participate in sports such as mountain biking, river rafting, rappelling on cliffs, and hiking. This is an exceptional accomplishment for these athletes, many of whom were active outdoors men and women prior to their injuries or illness. For participating military teams like the Bionic Warriors, the team competition offers a return to the close camaraderie and fellowship they developed while serving.
Each member of the Bionic Warriors Team has been active in sports prior to joining together for the Challenge. John Stanz, a Marine from Hamburg, New York, has competed in the Wounded Warrior Games since 2011. He has competed in swimming, shooting, wheelchair basketball, rowing, skiing, and hunting. Ben Duran from Colorado Springs also is an active Wounded Warrior Games veteran, participating in sitting volleyball, shooting and cycling. Abbeville, Alabama veteran Anthony Radetic has competed in three Wounded Warrior Games, and is active in skiing, scuba diving, archery, swimming, and wheelchair basketball.
Other team members include Army Special Operations veteran Israel Santiago from Colorado Springs, active in fishing, golfing, hiking, hunting and cycling. Kyle Butcher from Aledo, Texas is a veteran of the Wounded Warrior Games, participating in track, sitting volleyball and shooting. Alternate team member Eric Hollen, a member of the Bionic Warriors board of Directors, is a Colorado Springs veteran who competed in the 2012 London Games as a member of the US Paralympic Team.
"A goal of Special Operations Bionic Warriors is to develop adventure teams comprised of US Special Operations Soldiers," said COL MacDonald. "We would like to compete nationwide in different types of adventure races. [World T.E.A.M. Sports COO] Van Brinson sent us an invitation, I presented it to the members of the Board and we decided that the 2013 Adventure TEAM Challenge would be our first adventure sport competition."
Beginning September 13 with the prologue, the Bionic Warriors will undertake three days of the Challenge, against seven other teams currently scheduled to compete. In six years of previous competitions, all teams have successfully completed the Challenge.
"We are, very much, looking forward to the challenge and are grateful for the opportunity to compete in this event, and grateful for the staff and sponsors who are organizing this event," said COL MacDonald.
The Adventure TEAM Challenge from non-profit World T.E.A.M. Sports is sponsored by Fidelity & Guaranty Life, Penske Truck Rental and Timberline Tours. Celebrating 20 years in 2013, World T.E.A.M. Sports creates inclusive sporting events for disabled and able-bodied athletes.