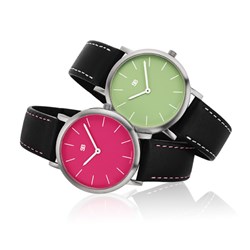 I wanted a name that was going to shock people. It's a great name!
Las Vegas, NV (PRWEB) August 29, 2013
Steel Blaze, maker of fine and affordable stainless steel jewelry and watches, has launched its SOB line of ladies watches. The ladies SOB collection of stainless steel watches distinguishes itself from the pack by offering a simple but attractive design with eleven unique dial colors to choose from.
The SOB collection of timepieces was created as the result of a magical collaboration between Universal Watch Co., Inc.'s Raphael Cohen of Las Vegas, Nevada and Michael Brennion of Besançon, France. The partnership between the two innovators was established in 1994 when they joined together for the distribution of AKTEO thematic watches in the United States. In 2008, they partnered again to create a watch line that had a simple design with the absolute best quality manufacture. The result is the SOB collection by Steel Blaze. Initially introduced as a mens line with a 40mm case, SOB soon found a demand amongst women as well, wanting a smaller, more feminine watch size. SOB Ladies collection was born.
Each of the ladies SOB timepieces are manufactured with a Ronda Slimtech 1062 Swiss quartz movement and have a scratch-resistant sapphire crystal installed. All of the SOB ladies watches are water-resistant to 5 ATM or 165 feet, are 100% pure, nickel-free stainless steel and have a 36mm case diameter with a super slim 6.5mm case thickness Each weighs just 1.1 oz. All the watches are equipped with a fine leather strap.
The SOB ladies watches carry a retail price of $395 with a 2-year warranty just like their male counterparts. There are 2 case colors available, as well as eleven different dial colors including: white, black, orange, green, red, blue, yellow, pink, purple, plum, and sky blue. The SOB ladies collection has a smaller dial, so it is marketed towards women but either men or women may wear the collection. The same is true for the men's watches in 40mm.
While the "SB" logo does stand for "Steel Blaze," the collection's "SOB" does in fact stand for the controversial name, "Son Of a B*tch." Company president, Raphael Cohen, elaborates: "I wanted a name that was going to shock people. It's a great name!"
Universal Watch Co., Inc. (UWC) is the United States distributor for Steel Blaze stainless steel jewelry, watches and accessories, as well as Boccia Titanium jewelry and watches, TeNo Stainless Steel jewelry and watches, and The TitanFactory titanium jewelry. UWC is the only seller in the world for the Steel Blaze SOB collection. UWC ships worldwide from their website and also sells a collection of SOB Watches on Amazon.com.