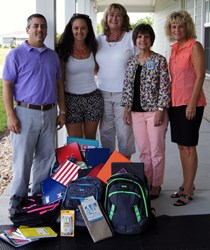 "We wanted all students to start off the year on the right foot, which is why we made this donation to local students in need."
Corolla, North Carolina (PRWEB) August 29, 2013
Corolla Classic Vacations, a boutique vacation rental and property management company in Corolla, North Carolina, is doing their part to help kids in need get ready for the upcoming school year. On August 20, 2013, Corolla Classic Vacations donated nearly $1,000 in school supplies to area school districts.
Corolla Classic Vacations partnered with Corolla Real Estate to fill 17 new backpacks with a variety of school supplies, including pens, pencils, notebooks, folders, and more. Malissa Suggs, Assistant Director of Finance for Corolla Classic Vacations, headed up the project. Suggs shopped for the school supplies with the help of Kim Loving of Corolla Classic and Denise Graham, broker at Corolla Real Estate and co-founder of Corolla Classic Vacations. The Corolla Classic and Corolla Real Estate team delivered the backpacks loaded with supplies to schools in the Dare and Currituck County districts. When school started on Monday, August 26, students in need were treated to a nice surprise.
"Starting a new school year is always an exciting time for students! New teachers, classrooms, and seeing friends are all things to look forward to, but starting fresh with new school supplies is also one of the joys of a new school year," said Mallory Alcock, Communications Coordinator for Corolla Classic Vacations. "We wanted all students to start off the year on the right foot, which is why we made this donation to local students in need."
Corolla Classic Vacations also donated a variety of paper products for those in need at the Water's Edge Village School, a charter school in Corolla. Corolla Classic takes giving back to the community very seriously, and the company has donated time and money to an array of local organizations over the years. Additionally, Corolla Classic donates $5 of every pre-reservation fee to a list of Outer Banks charitable organizations.
"Our success is measured not only by our bottom line but by the difference we can make daily for those less fortunate in our area. As a team and as individuals, our staff dedicates quite a bit of time to issues and causes that affect us all," said Billy Casper, Vice President of Property Management.
About Corolla Classic Vacations:
Corolla Classic Vacations is a property management company specializing in the Currituck County area of the Outer Banks. Offering over 200 fine vacation home rentals in Corolla, North Carolina, the company is selective in the properties and owners they represent. The tagline "deliberately and selectively smaller" speaks to the fact that Corolla Classic Vacations only chooses to represent homes that are well-maintained and cared for. The company also specializes in personal customer service for owners and guests.