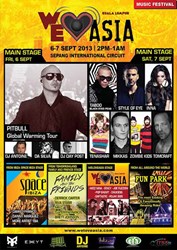 (PRWEB) August 29, 2013
MusicDish*China announced that Taiwanese EDM act RED has been invited to perform at Malaysia's "We Love Asia" Festival being held Septemner 6-7 at Sepang International Circut in Kuala Lumpur. "We Love Asia" will feature over 50 international & national top acts featuring worldwide superstars such as Pitbull, Taboo of the Black Eyed Peas, DJ Antoine, Inna, Tomcraft, Style Of Eye and Mizz Nina on 3 stages.
MusicDish LLC signed RED for international management and development earlier this year. They have since released their debut EP "Red City" in Taiwan while performing at Moscow's Izvestia Concert Hall and Stariki Bar as part of rAsia Festival as well as StreetVoice's "The Next Big Thing" in Taipei.
Taiwan-based electronic trio RED's music is a bridge between music from the East and West, combining electronic music styles from House to D'n'B with Chinese traditional influences. The group took shape in 2010 when music producer, composer, recording and mixing engineer DJ Code met Shao Shih in his studio to record the demo tape for an ad campaign. Impressed by her vocals, they collaborated on the song "Snow" for his upcoming album "Asia River." With a background in classical and electronic music, Pierre Hujoel adds the interplay of electronic keyboard and triggers to weave in traditional Chinese instruments and percussions dialoguing with one another, bringing a whole new kind of performance to the music scene.
MusicDish*China (http://china.musicdish.com) serves as a bridge between East & West, working with major acts from Taiwan (sa. Golden Melody Award winners Jolin Tsai, Mayday, Da Mouth) and China (Shanren) while developing Western acts for the Greater China market. MusicDish*China has partnered with key events, from Midi and Zebra festivals to the Sound of the Xity conference that, in combination with its social media presence, has given it a unique brand positioning in the market. MusicDish also provide distribution/marketing and touring for Western acts such as Toulon-based Voodoo's 12 shows-9 cities China tour last spring. MusicDish*China recently signed electronic acts DJ Code and RED for international management.
Visit RED's Facebook page - http://www.facebook.com/redmusic.fans
Visit We Love Asia 2.0 website - http://weloveasia.com