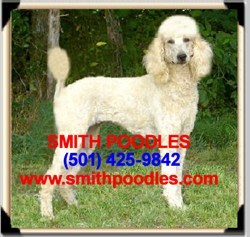 (PRWEB) August 29, 2013
Smith Poodles, one of the nation's leading and most responsible breeders of standard poodles, Phantom Standard Poodles and Parti Poodles, is proud to announce the arrival of several new litters of beautiful solid color Standard Poodle puppies ready to start their lives with new families.
Smith Poodles currently has three litters of standard poodle puppies that are ready for pick up now or in the very near future. Marci's standard poodle puppies were born on 06/17/13 and are available for pick up today! In September, Brandi's litter which was born on 08/05/13 will be ready for pick up on 09/26/13, and in October, Ruby's litter which was born on 08/03/13 will be ready for pick up on 10/05/13.
Smith Poodles is located in a beautiful, secluded, country setting 15 miles from the Little Rock Airport in Arkansas. Smith Poodles takes great pride in providing a nurturing environment and an ideal atmosphere where their dogs are allowed access wide-open spaces to run and play. Every Smith Poodle is thoroughly health-checked and bred from parents that are health-certified, and all puppies are sold with limited AKC registration; full AKC registration is available upon request.
Although they're most commonly known for their beautiful coats, poodles are also exceptionally smart and active dogs that often excel in obedience training. As versatile as they are beautiful, poodles can live comfortably in almost any sized living quarters and are sure to be a fabulous addition to any home.
All Smith's Poodles are transported on commercial airline flights in the safety of heated/air conditioned and pressurized compartments. Smith Poodles can safely deliver puppies to all 50 states and has even made many international sales.
For more information and to view a complete portfolio of available poodles, please visit their website at http://www.smithpoodles.com/. Telephone inquiries can be made at (501) 425-9842 between 8 AM and 10 PM CST, and dogs can be seen by appointment along with tours or the Smiths' state of the art, full service facilities.