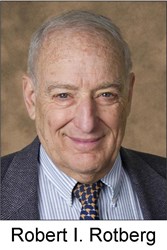 (PRWEB) August 28, 2013
The Centre for International Governance Innovation (CIGI) is pleased to announce the appointment of renowned Africa and global governance expert Robert I. Rotberg as a CIGI Senior Fellow, effective immediately.
At CIGI, Mr. Rotberg is leading two research projects. "South Africa's Role in Multilateral and Governance Issues in Africa" explores the sub-Saharan country's readiness and ability to be a twenty-first century leader. It will culminate in publications by Sage and CIGI, as well as an issue of the Annals of the American Academy of Political and Social Science. Mr. Rotberg's second project, "Measuring Governance Effectiveness: National and International Dimensions," is in partnership with The North-South Institute (NSI). It will culminate in a new book that provides a conceptual framework and definition of global governance with relation to a comprehensive indexes database. All publications by Mr. Rotberg are targeted for a 2014 release date.
Mr. Rotberg was recently the inaugural Fulbright Research Chair in Political Development at the Balsillie School of International Affairs (BSIA), while also serving as Visiting Fulbright Scholar at CIGI. He is the founding director of the Program on Intrastate Conflict and Conflict Resolution at Harvard University's Kennedy School of Government and is President Emeritus of the World Peace Foundation. Previously, he was professor of political science at the Massachusetts Institute of Technology, academic vice president of Tufts University and president of Lafayette College. He is also a fellow of the American Academy of Arts and Sciences and a member of the Council on Foreign Relations. In fall 2013, he will be Fulbright Research Chair in Political Development at the Norman Paterson School of International Affairs (NPSIA) at Carleton University.
"Both CIGI and the BSIA were fortunate to have Robert Rotberg spend the winter/spring terms of 2013 with us as a Fulbright Scholar. His significant stature as researcher, teacher, and mentor were evident to all," says David Dewitt, vice president of programs at CIGI. "We are very pleased to extend our association through this Senior Fellow appointment, continuing a productive relationship that will result in a number of significant policy-relevant publications of outstanding scholarship in areas important to governance innovation."
"I am delighted to be invited to continue my very productive and intellectually stimulating association with CIGI. Its support for our ongoing research on Africa, South Africa, and global governance is incredibly important and welcome," says Robert I. Rotberg.
Mr. Rotberg's most recent books are "Africa Emerges: Consummate Challenges, Abundant Opportunities" (2013) and "Transformative Political Leadership: Making a Difference in the Developing World" (2012). His article "Mobile Phones: Uplifting Weak and Failed States" (with Jenny C. Aker) was published in the winter 2013 issue of The Washington Quarterly. He has written or edited books on other diverse subjects such as Haiti, Burma, Sri Lanka, the Horn of Africa, Zimbabwe, genocide, corruption and failed states. In fall 2012, he was the inaugural Fulbright Research Chair at NPSIA and NSI.
For more information, please visit: http://www.cigionline.org/person/robert-i-rotberg.
Media Contact:
Kevin Dias, Communications Specialist, CIGI
Tel: 519.885.2444, ext. 7238, Email: kdias(at)cigionline(dot)org
The Centre for International Governance Innovation (CIGI) is an independent, non-partisan think tank on international governance. Led by experienced practitioners and distinguished academics, CIGI supports research, forms networks, advances policy debate and generates ideas for multilateral governance improvements. Conducting an active agenda of research, events and publications, CIGI's interdisciplinary work includes collaboration with policy, business and academic communities around the world. CIGI was founded in 2001 by Jim Balsillie, then co-CEO of Research In Motion (BlackBerry), and collaborates with and gratefully acknowledges support from a number of strategic partners, in particular the Government of Canada and the Government of Ontario. For more information, please visit http://www.cigionline.org.
-30-