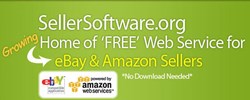 SellerSoftware is suitable for small and medium sellers who need to reduce their labor cost and overall fees. We get good feedback from sellers
Los Angeles, CA (PRWEB) August 28, 2013
SellerSoftware.org, an eBay and Amazon web service, is now available to all users at no cost, providing a range of services and tools to help sellers develop their brand and increase sales. The organization is built to help sellers achieve their goals. It is based on over 14 years of selling and development experience on the eBay and Amazon platforms.
Signing up on the SellerSoftware website is easy. The process requires the user's name, email, User ID, password, and phone number. General sales volume is also required, and the user can then create their account for the free web service.
For eBay sellers, the free platform can help PowerSellers save time and labor. It provides scheduling, super size pictures, image hosting, plus eBay listing and order processing and multi SKU support. Sales and tax reports are also included at no cost, giving the user complete functionality and financial reporting. In addition, they can take advantage of USPS label printing services. U.S. Postal Service confirmations can be uploaded in bulk as well.
The SellerSoftware.org platform is compatible with Amazon Marketplace Web Service, so sellers can exchange their data on listings, orders payments, and reports. Access to these data helps anyone grow their business. With the free service, sellers can increase their efficiency, lower their response time to customer inquiries, revise pricing and inventory in bulk, and take advantage of label printing and automatic order processing.
Once the user signs up, getting started is easy. SellerSoftware.org is not only offered at no cost, it is also used by simply logging on to the website. No downloads are needed to access the full functionality of the service.
Daniel Kim, Project Manager, said that "SellerSoftware is suitable for small and medium sellers who need to reduce their labor cost and overall fees. We get good feedback from sellers."
To learn more about the eBay and Amazon web management service, and to sign up, go to http://www.sellersoftware.org.
About SellerSoftware.org
SellerSoftware.org is an online web management service for high-volume eBay and Amazon.com sellers. A branch of PhiConnect.com, it supports independent sellers by using its e-commerce development experience. The company operates the PhiConnect Return Service on eBay.com and was selected as a runner-up for "eBay DSR Rockstar" in 2010.