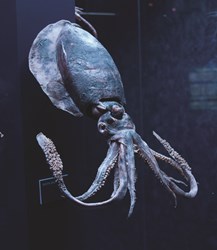 Tampa, FL (PRWEB) August 29, 2013
Sea Monsters Revealed, an exhibition of the world's largest plastinated sea creatures, is in its final days at the Museum of Science & Industry (MOSI). The exhibition made its world premiere debut on Saturday, March 9 and will be leaving Tampa forever on Sept. 2, 2013.
"It has been truly rewarding to see so many MOSI visitors respond so positively to Sea Monsters Revealed and to these breathtaking specimens," said John Zaller, the exhibition's creator and the mind behind the Bodies exhibit, "MOSI and the Tampa-St. Pete area have been tremendous hosts for this once-in-a-lifetime experience."
In Sea Monsters Revealed, visitors not only see the outside, but also the inside of the most elusive aquatic life ever discovered, including a 6-foot-wide manta ray, a 15-foot-long Mako shark, an 18-foot-long, 3,000-pound Whale Shark and the largest Giant Squid in North America. All specimens in the exhibition are authentic, stunning examples of the mysteries that lie beyond our shores and have been carefully recovered in accordance with the highest animal protection standards.
In addition to the remarkable marine life on display, Sea Monsters Revealed also engages important issues about the ocean that affect the world in which we live. "Sea Monsters Revealed's subject matter is so important that it has caught the attention of iconic ocean explorers like Fabien Cousteau," Zaller said.
The exhibition features theatrical and immersive sets that take visitors far out to and beneath the surface of the ocean in a mock-up of Florida's own Aquarius Reef Base. Sea Monsters Revealed also has been continually updating its content: guests can now take photos from inside the jaws of a giant Megalodon, view a never-before-seen pregnant silky shark, and see numerous human anatomy specimens including a head, heart and lungs, which offer visitors a side-by-side comparison between humans and specific marine specimens.
"Sea Monsters Revealed goes beyond the Bodies exhibits," said MOSI President Wit Ostrenko, "It is equal parts entertaining and educational, telling a comprehensive story of the ocean's mysteries, helping us better understand marine life as well as our own bodies. The exhibition is a real gift to Tampa and is definitely a must see before it leaves."
Sea Monsters Revealed made a splash with its world premiere on Saturday, March 9 and is in its final days at MOSI through Monday, Sept. 2, 2013. Museum hours are Monday – Friday, 9 a.m. – 5 p.m. and Saturday and Sunday, 9 a.m. – 6 p.m. Tickets are on sale now, and reservations are highly recommended. Tickets can be purchased by calling 813-987-6000 or visiting mosi.org.
Tickets for Sea Monsters Revealed are $18.95 for adults, $16.95 for seniors (60+) and $12.95 for children (2-12). Guests can add MOSI general exhibits or a documentary IMAX film to their Sea Monsters Revealed ticket for $5 each.
For more information, visit mosi.org.
# # #
Sea Monsters Revealed in Tampa is funded, in part, by the Hillsborough County Board of County Commissioners/Tourist Development Council.
SEA MONSTERS, SEA MONSTERS REVEALED and SEA MONSTERS THE EXHIBITION are trademarks of Base Sea Monsters, LLC.
About MOSI (Museum of Science & Industry)
MOSI is a not-for-profit, community-based institution and educational resource dedicated to advancing public interest, knowledge, and understanding of science, industry, and technology, and is home to the only IMAX® DOME Theatre in the state of Florida. With a total size of more than 400,000 square feet, MOSI is the largest science center in the southeastern United States. Learn through play inside Kids In Charge! the largest Children's Science Center in the nation; The Amazing You—a 13,000 square-foot exhibition on health and wellness; or Disasterville, featuring Bay News 9 WeatherQuest, which combines education and 10,000 square feet of interactive exhibits on the science behind natural disasters. Conquer your fears on MOSI's Sky Trail® Ropes Course, featuring 35 elements on a 12 – 36 foot high, multilevel structure, or soar 700 feet on the Sky Trail Zip Line. Budding inventors can Dream It – Make It – Do it in MOSI's new technology playground & inventor's studio, Idea Zone, and preschoolers can experiment with friction and collision physics in Slippery Science, a PNC Passport to Science – Grow Up Great Initiative. Additionally, MOSI recently unveiled its newest exhibition Mission: Moonbase, funded in part by NASA, where guests can travel to the moon to operate a lunar colony. MOSI is the proud winner of the 2009 National Medal for Museums by the Institute of Museum and Library Services, the nation's highest honor for museums. For more information on MOSI, visit http://www.mosi.org.
About BASE Entertainment
BASE Entertainment (Producer) BASE develops, produces and manages intellectual properties generated for live entertainment stages in North America, Asia and Brazil. BASE's current production activity in Las Vegas includes the following: Rock Of Ages at the Venetian, Peepshow at Planet Hollywood Resort & Casino, Jersey Boys at The Paris, Absinthe at Caesars Palace, Defending the Caveman and Million Dollar Quartet (opening February 2013), at Harrah's. BASE also presented an exclusive holiday engagement of the all new Mannheim Steamroller Christmas Spectacular production at The Palazzo. Previous production activity in Las Vegas includes: Phantom at The Venetian, Wayne Brady - Making It Up at The Venetian, and Stomp Out Loud at Planet Hollywood. In addition, BASE operates the Showroom and PH Live at Planet Hollywood in Las Vegas. At Marina Bay Sands in Singapore, BASE programs both the Grand Theater, previously home to both The Lion King and Wicked, and the Sands Theater, where Jersey Boys is currently playing (in partnership with Dodger Properties and Showtime). In Brazil, BASE, in partnership with Geo Eventos, recently produced Priscilla Queen of the Desert in Sao Paulo in March 2012. Spy: The Secret World of Espionage represents the premiere museum quality exhibition developed and presented by BASE. BASE Entertainment's headquarters are in New York, and its founders include industry veterans Brian Becker and Scott Zeiger. For more information please visit http://www.BASEentertainment.com.