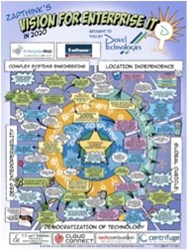 McLean, VA (PRWEB) August 30, 2013
ZapThink, a Dovel Technologies Company, today announced its long-awaited update to its popular Vision for Enterprise IT in 2020 poster, popularly known as ZapThink 2020.
"There are so many forces of change impacting IT in the enterprise that it's essential to get a big picture of how technology trends overlap," said Jason Bloomberg, president of ZapThink. "The ZapThink 2020 poster illustrates how Cloud Computing, Mobile Computing, and other trends interrelate to drive organizations toward greater agility."
"It's important for IT professionals to think holistically about today's enterprise IT trends. In the public sector, this is extremely important as government entities face declining IT budgets," said Tod Weber, Chairman and CEO of Software AG Government Solutions. "As ZapThink's new Vision for Enterprise IT poster illustrates, the IT landscape is dynamically evolving, so the need for maximizing investments in existing IT assets, connecting disparate systems and automating mission-critical processes continues to be critical."
"ZapThink pulls all the memes together to provide a unified vision for Enterprise IT," said Dave Duggal, founder and Managing Director of EnterpriseWeb. "We're happy to once again sponsor their poster."
Additions to the 2010 version of the poster include Dev/Ops, Big Data Visualization, Hypermedia-Oriented Architecture, Bring Your Own Device (BYOD), and more.
"This poster is not a traditional myopic view of the Enterprise IT world from a single perspective, as you commonly see from vendors, specific solution providers or one track minded consultants," said Vish Viswanathan, Managing Director of C C and C Solutions. "When we introduce the poster to any of our clients as a partner of ZapThink, they are simply blown away at the depth and breadth of the future vision and thought leadership that has gone into its design. Wherever you are coming from, this poster is a 'must have' in your tool kit, to complete your understanding of the massive transformation challenges that the industry is facing."
The poster is available for free download at http://www.zapthink.com/2020/, and printed posters are available for the cost of shipping.
"TechCombustion is thrilled to be part of ZapThink's latest Vision for Enterprise IT poster," said Ronald Schmelzer, Chief Event Wrangler of TechCombustion and its well-known TechBreakfast event series. "Having been part of the ZapThink team, I know how forward-thinking Dovel Technologies is with their vision of the future. This meshes well with TechCombustion's brand for promoting and cross-pollinating different innovation sectors."
This version of the ZapThink 2020 poster features several new sponsors. Gold sponsors include EnterpriseWeb and Software AG Government Solutions, and silver sponsors include C C and C Solutions, Cloud Connect, TechCombustion, and Centrifuge Systems.
About EnterpriseWeb
The world is increasingly distributed, diverse and dynamic. Rapid change presents opportunities, but also poses challenges for enterprise agility. How do businesses achieve integrated views and operations across fragmented data sources and systems?
EnterpriseWeb™ (http://www.enterpriseweb.com) is a real-time Semantic Enterprise Application Integration (Semantic EAI) platform. It helps organizations harness their distributed assets and govern their use within, across and outside of enterprise boundaries to support integrated operations.
The platform supports 'situational-awareness' with real-time analytics driving personalization, recommendations and proactive compliance so organizations can build 'smart' services, applications and business processes.
The EnterpriseWeb™ serves dynamic business environments where conventional software is too inflexible. The logically multi-tenant platform supports Public, Private and Hybrid-Cloud deployments.
For more information call +1 (646)-502-8062, or email info(at)enterpriseweb(dot)com.
About Software AG Government Solutions
Software AG Government Solutions provides best-in-class software solutions for integration, service-oriented architecture (SOA), big data and business process management (BPM). Our core products are webMethods, ARIS and Terracotta. The company's highly trained team takes a "special forces" approach to solving complex IT challenges quickly and efficiently for the federal government and its supplier communities. The company is headquartered in Reston, Virginia and is a wholly owned subsidiary of Software AG USA with more than 30 years of experience with the federal government.
About C C and C Solutions
C C and C Solutions (http://www.ccandcsolutions.com/) is a globally renowned, boutique enterprise and solutions architecture training, consulting and mentoring organization focusing on handholding enterprises, essential in the EA early startup phase. Their goal is to EA-enable organizations to an adequate level of self-sufficiency in processes, deliverables, tools and techniques based on international best practices primarily from TOGAF® and customized to the specific business imperatives of the enterprise.
As a rule, every enterprise needs a partner from outside as a mentor, advisor and hand-holder to help face and win in this challenging world—a partner that is not aligned to any vendor, technology or product, one that is squarely on your side. CC&C fills this unique role with repeated successes globally, based on our solid experience, proven processes and effective tools. We can help you through your Enterprise Architecture transformation phases and unblock hurdles with unbiased advice and quality services. Our major goal your self-sufficiency—the moment you are ready, we quit!
http://www.ccandcsolutions.com
About Cloud Connect
Cloud Connect, produced by UBM Tech, is the defining event of the cloud computing industry and the only venue where attendees learn how to leverage the cloud ecosystem to develop new services, revenue streams and business models. As both a conference and an exhibition, Cloud Connect's goal is to chart the course of cloud computing's development by bringing together enterprise IT professionals, developers, infrastructure and service providers and cloud computing innovators. Cloud Connect offers three days of in-depth boot camps, panel discussions and access to a host of industry experts, all designed to help organizations weigh their cloud options and drive transformation. For more information visit: http://www.cloudconnectevent.com.
About TechCombustion
Be part of a growing innovation community! Join TechCombustion's community focused on innovation at some of the largest tech events in the country. TechBreakfast is a monthly, free event where companies "show and tell" their innovations to their peers (http://www.techbreakfast.co), the BizWorkshop are opportunities to strengthen your innovation business, and TechAfterHours events give you an opportunity to network with your peers. Join us! Find out more at http://www.techcombustion.com.
About Centrifuge Systems
Centrifuge Systems is a leading provider of next generation big data business intelligence software. Our groundbreaking approach to finding the needle in the haystack brings together three compelling innovations to the problem: a unique interrelationship perspective, cutting edge interactive visualization, and fully browser accessible/embeddable environment.
Centrifuge moves beyond simple visual dashboards to give you the ability to interpret data within the context of your business. Using advanced link analysis, you can "bring your own data" from any source, filter and combine as desired, and quickly make connections between people, behavior and events. Today, Centrifuge Visual Network Analytics is used in some of the most demanding applications in the world, including cyber-security, counter-terrorism, homeland defense, retail theft, insurance claims fraud and financial crimes analysis.
http://www.centrifugesystems.com
About ZapThink
For over a decade, ZapThink has cut through the hype surrounding agile architectures for the enterprise. We forged a path for organizations planning and implementing Service-Oriented Architecture worldwide. Now, as a Dovel Technologies company, ZapThink continues to drive innovation in SOA, Cloud and Enterprise Architecture with its market leading Licensed ZapThink Architect SOA course and Enterprise Cloud Computing course that provide Agile Architecture insight and best practices for both government and private sector enterprises. To learn more, visit http://www.zapthink.com.
About Dovel Technologies
Dovel Technologies provides high-end software and application development to government clients. Dovel is recognized as an industry leader in Service Oriented Architecture (SOA), using the approach to create low-impact approaches to process, communicate, and store mission critical information. Clients include Food and Drug Administration, Department of Defense, U.S Census Bureau, Department of Education, and the Federal Aviation Administration. Dovel has been appraised at CMMI level 3 and its annual quality report receives accolades from industry leaders such as Capers Jones, who has listed Dovel in the category of "Companies That Utilize Best Practices" along with IBM, Amazon, Google, and Apple. To learn more visit http://www.doveltech.com.
Press Contact:
Piper Conrad
piper(dot)conrad(at)doveltech(dot)com
571-499-3718