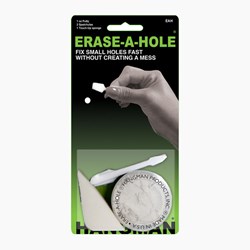 Los Angeles, CA (PRWEB) August 30, 2013
Covering a hole in drywall is not complicated, but the job can look messy and unprofessional without the right products. Follow these tips on techniques and products to fix a hole quickly and nearly invisibly.
For the kind of hole left by a hanger—nail or screw hole—the tools required are simple: spatula, drywall putty, and something to clean up the residue.
There are three key elements to filling a hole with no mess and no fuss:
1. The size of the spatula. Most putty knives are too big. They spread the putty too broadly, leaving smears on the wall which will require touchup, especially on colored walls. The smaller the spatula, the smaller the smear. Hangman Products offers two specially sized spatulas in their Erase-a-Hole kit, described in more detail below.
2. Fresh, high-quality putty. If the putty has not been stored in an air-tight container, it will not adhere and fill correctly. It could crumble or dry improperly, which could create a larger hole when removing excess residue. Most importantly, putty must be formulated not to shrink, so the hole will not reappear later.
3. Clean-up. A drywall sponge is the right density. A small one is best. The trick is to have less to clean up.
Hangman Products makes a kit to simplify and compact all of these elements, called the Erase-a-hole. Available widely at retailers or directly online at its website, the package includes:

1 ounce of patented formula that won't shrink, in a resealable container with membrane;
2 tiny spatulas formulated just for small holes;
1 touch up sponge.
Hangman Products' how-to video demonstrates the process. Simply fill the hole using the special putty and spatula, covering as small a diameter as possible. Let the putty dry. Dampen the sponge and remove any excess putty. The repair will be nearly invisible on any shade of white walls. For colored walls, the repaired area will be so minimal, a tiny brush of color will cover it.
About Hangman Products: Hangman Products creates hardware solutions for everyday needs. The multiple-patented Hangman Systems are carefully engineered to guarantee a safe and sturdy installation while promising to hang it level every time. Hangman's products range from Hanging Pictures, Hanging Mirrors, Hanging Framed Art, TV/Stereo Mounts and Safety to Garage/Slat Wall and Organization. They are designed to meet the installation requirements for retailers, consumers and manufacturers. Hangman's ever-expanding line of products can handle even the most difficult projects.