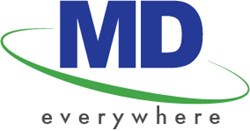 "The tools and capabilities of Practice 1st are a big part of how we consistently improve collection rates for our clients," says Ann Bilyew, MDeverywhere's CEO.
Waltham, MA (PRWEB) August 29, 2013
MDeverywhere, Inc., a leader in revenue cycle management solutions for physicians, today announced the release of version 3.0 of Practice 1st, its revolutionary Practice Management and Revenue Cycle Management software application. With new features focused on improving the client experience, version 3.0's enhancements include:
~ An updated Home Page with a new look and layout for a more streamlined user experience
~ Significant enhancements to reporting capability
~ Additional point-of-care edits designed to reduce document-related denials
Practice 1st is a native cloud-based application requiring no local software installation or expensive hardware installations. It utilizes SSL encryption to protect sensitive patient data, per HIPAA guidelines. With full support for automated, real-time eligibility, point-of-care coding edits, appointment reminders and recalls, Practice 1st plays a significant role in helping clients achieve their goal of increasing collections. As we prepare for the transition to ICD-10, the flexibility of Practice 1st technology will enable MDeverywhere to adapt its system to full compliancy and enable a smoother ICD-10 conversion for our clients.
"We are very excited about this major new release of Practice 1st, our state-of-the-art, cloud-based revenue cycle system. Since our initial launch in 2011, we have continually evolved our systems in response to client requirements," said Ann Bilyew, CEO of MDeverywhere. "The flexibility of the open-source web framework technology enables us to be in a constant state of innovation and improvement. Our systems are getting better and smarter everyday. The tools and capabilities of Practice 1st are a big part of how we consistently improve collection rates for our clients."
MDeverywhere offers a leading revenue cycle management solution including credentialing services for physicians. Our unique RCM solution includes purpose-built, cloud-based practice management software, coding rules engines, contract monitoring tools and full-scope claims management and back-office services. Our solutions are proven to streamline workflow, decrease denials and increase revenue. As an NCQA Certified CVO, we assist clients in taking control of their credentialing processes through delegation. MDeverywhere was founded in 1995 and currently serve over 7,000 physicians nationwide. Our clients include solo practices, group practices, large faculty practices, and hospitals in over 40 different specialties.