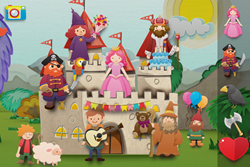 Moscow, Russia (PRWEB) August 29, 2013
Russian based Tricky Eyes, steps into the app space with the release of Tricky Stories - Magic Castle, a story-based sticker book available for iOS. Branching out from a company that published online role-playing games, Tricky Eyes is utilizing their experience to effectively combine game-play with thought provoking elements. Inspired by concepts displayed at the Digital Kid's Conference, the team of developers began to create an app that challenges children to think differently while encouraging them to use their imagination to play the game.
"We wanted to create a game that would help children develop their cognitive skills through storytelling, rather than focusing solely on an educational program. With the game's open-ended play, children's imagination will run free, and the paper look of the app will connect them more deeply to the app," explains Julia Nechaeva, Producer of Tricky Eyes.
Developed for children ages 3-6 years old, Magic Castle invites users to create their own story by placing themed stickers such as knights, princesses and horses into the scene while using imagination to make the story their own. Using 3D scene that looks like it's made from paper , players can scroll throughout the environment to discover interactive characters and animals or capture each story created with the camera and save to the sticker book album.
Features of Magic Castle Include:

Magic Castle is filled with colorful and friendly fairy tale/forest animals' stickers!
Watch as characters come to life with fun noises and movements
Capture your story with the camera and save to your sticker book album
Choose from a variety of images from princesses, dragons, or even knights!
Add exciting characters to the magical castle background
Magic Castle is filled with 3D scenes with parallax
Within the next year, Tricky Eyes plans to expand their portfolio to include additional interactive apps suitable for the whole family. Stay connected to see their next creation later this year.
Download Tricky Stories - Magic Castle today for $1.99 on the iTunes App Store: https://itunes.apple.com/us/app/tricky-stories-magic-castle/id668546517.
For more information on Tricky Stories, visit:
http://trickystoriesapp.com/
https://www.facebook.com/trickyeyesapps
http://trickyeyes.com