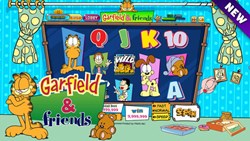 Gamers have played more than 150 million spins in Slots Craze, winning more than 14 trillion virtual coins altogether.
Gibraltar (PRWEB) August 29, 2013
Win, the social gaming company backed by bwin.party, let the cat out of the bag today by introducing the brand new "Garfield & friends" slot machine. Based on the long-running Garfield comic strip, "Garfield & friends" features the famously famished feline in the newest slot machine for Slots Craze, the fast-growing social casino game that just surpassed 1 million installs since its launch earlier this year. Garfield joins other beloved characters in Slots Craze such as Casper the Friendly Ghost™, Sherlock Holmes, Count Dracula and the cast of The Wizard of Oz.
"Anyone who's ever woken up grumpy on Monday or eaten one pizza slice too many can relate to Garfield. And obviously the team at Win understands the cat — they've managed to capture all the fun and humor at the heart of the Garfield brand in Slots Craze," said Jim Davis, Garfield's creator. "This engaging game brings Garfield to life in a new and interactive way."
The title character behind the Guinness World Record holder as the most widely syndicated comic strip in history, Garfield has appeared in everything from feature films and television shows to video games and stage productions. In the "Garfield & friends" slot, a player's goal is to line up images of Garfield; his owner, Jon Arbuckle; Jon's dog, Odie; Jon's love interest, Dr. Liz Wilson; and Garfield's teddy bear, Pooky. Special animations—such as a napping Garfield falling off a windowsill or a half-witted Odie chasing his own tail—will surprise and delight players, while the 35 pay lines and special bonus symbols offer extremely high pay outs.
Player engagement with Slots Craze has been exceptionally high, with more than half of new players coming back to play again on their second day. Gamers have played more than 150 million spins in Slots Craze, winning more than 14 trillion virtual coins altogether. If they were real coins, that would buy Garfield and the entire population of the United States his favorite Lasagna treat three meals a day for approximately eight years!
Available for free on Facebook and iOS, Slots Craze stands out from other social slot games with its high production value artwork and compelling gameplay. The app offers 10 slot machines featuring characters ranging from famous icons to Win's own personalities, such as "Peg Leg Greg", "Teddy Pets", "Juicy Monsters", and more. The company plans to introduce many more slots over the coming months.
Availability
Slots Craze is available for free at:
Facebook: http://bit.ly/12KUW4W
iTunes: http://bit.ly/12L3xVb
About GARFIELD
GARFIELD was born on the comics pages on June 19, 1978. The creation of cartoonist Jim Davis, GARFIELD is a humorous strip centered on the lives of a quick-witted orange cat who loves lasagna, coffee, and his remote control; Jon Arbuckle, his owner; and Odie, a sweet but dumb dog. GARFIELD was introduced to the world in just 41 newspapers and is now the most widely syndicated comic strip ever, appearing in 2100 newspapers. The strip, distributed by Universal Press, is read by over 220 million people each day and is translated into 42 languages.
The success of the comic strip spawned an entertainment empire including television: Garfield and Friends, The Garfield Show, and a dozen primetime specials; movies: Garfield: The Movie and Garfield: A Tail of Two Kitties; hundreds of best-selling books, and thousands of licensed products.
Garfield has long been considered an evergreen property because he has not only endured, but continues to be fresh and funny after 35 years in the limelight.
Follow Garfield, along with over 10 million other fans, on Facebook (facebook.com/Garfield) and Twitter (twitter.com/Garfield), and visit garfield.com, and Garfield's free educational site, professorgarfield.org.
About Win
Win is a social gaming company backed by $50 million from bwin.party digital entertainment plc., the global online gaming company. Founded in 2012, Win develops and publishes slots, bingo, poker, betting, and other casino games on social and mobile platforms. Its first game, Slots Craze, has passed 1 million players since its launch in the spring of 2013. Managed by a team of seasoned executives and gaming industry pioneers, Win leverages its unique resources as well as some of the world's best loved brands to deliver fun and exciting gaming experiences. The company is headquartered in Gibraltar, with offices in Israel and Ukraine. For more information, visit http://www.win.com.
# # #
Media Contact
Matt McAllister
Fluid PR
(510) 229-9707
matt(at)fluidspeak(dot)com
Company Contact
Tilli Kalisky
Head of Business Development
(605) 475-6700
tilli(at)win(dot)com