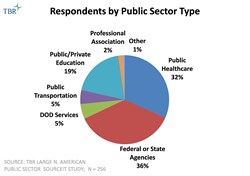 Hampton, NH (PRWEB) August 29, 2013
Technology Business Research released its SourceIT Public Sector report in August 2013. The report examines IT budgeting and spending at large North American public sector agencies (i.e., federal and state agencies, the Department of Defense, public transportation, and public and private education agencies), and identified $48.6 billion in funds, along with the motivators and perceptions of decision makers that will decide where this money goes over the course of 2014.
The study found the prevailing goals that drive government IT decision makers include streamlining processes, better managing existing and incoming information, and improving user experience through technology innovation; however, TBR's research uncovered that this drive to innovate is still underpinned by a focus on simplification and the desire to support long-term goals. This seemingly divergent set of requirements is forcing technology providers to approach the needs of the government sector differently than other segments.
TBR Software and Cloud Practice Director Stuart Williams said, "Vendors can differentiate themselves through value propositions that either simplify or consolidate IT or directly support mission objectives. The research in the SourceIT Public Sector report shows vendors how to align to that value proposition and assists them in winning more deals in the government space."
The SourceIT Public Sector report analysts conducted 256 surveys of technical IT buyers and business-led C-suite and line-of-business IT decision makers at large federal, state and education agencies, as well as public healthcare providers with more than 950 employees and an IT budget of more than $1 million.
Additionally, the research includes 25 in-depth interviews that provide a better understanding of how and why users will invest in certain solutions and with specific vendors. The responses identified the weighted importance and preferences around workloads such as business applications, analytics, email and messaging, and mission-specific custom applications. These responses also give clients a deeper understanding of perceptions and needs at government agencies and how best to create a strategy to take market share.
A director for a large public sector enterprise said, "Public sector organizations are increasingly driven to improve operational efficiency, share information and integrate processes across operational and jurisdictional boundaries while maintaining control over costs." The respondent continued: "We also focus on establishing a secured communication network between our systems, and this change will be regarded as the highest priority to provide required benefits for the citizens."
This market evolution is further detailed by Senior Analyst and Program Manager of TBR's Public Sector Research John Caucis: "Budget turmoil, the ongoing series of continuing resolutions and the recent implementation of sequestration on the federal procurement process have exerted tremendous pressure on IT decision makers across the federal sector to do more with less and maximize the return on their IT investments. IT vendors serving the federal government need to understand federal clients' current and future IT spending patterns to adjust go-to-market strategies and satisfy the ever-changing IT needs of federal agencies and departments in the current budget turbulence."
More than 30 vendors are covered in the SourceIT Public Sector report, including ADP, Citrix, EMC, HP, IBM, McAfee, Microsoft Oracle, Novell, SAP, Software AG and VMware.
TBR launched the SourceIT research program in January 2013, providing an opportunity playbook into specific large enterprise market segments. SourceIT reports provide TBR's clients with clear, actionable insight that can be leveraged to:

Identify opportunity by highlighting the business and IT strategy drivers and demands in specific market segments.
Target IT purchasing decision makers by explaining purchasing scenarios and identifying where in the business or IT organizations decisions to purchase will be made.
Improve corporate positioning against competition by targeting customer needs and managing rivals.
The Retail; Healthcare; Telecom Service Provider; and Banking and Financial Services SourceIT reports are available. Manufacturing; Energy and Utilities; and Transport and Logistics SourceIT industry reports will publish in fall 2013.
TBR is offering current and prospective clients a free 30-minute consultation with Stuart Williams to discuss where large North American healthcare providers and payers are headed; contact SourceIT@tbri.com to schedule your private consultation. Current and prospective clients can also learn more about this research via TBR's webinar "Where Public Sector Agencies are Headed: How IT Vendors Can Capture Opportunity." For more information please contact Senior Marketing Manager Alison Crawford at alison.crawford@tbri.com or Vice President of Sales James McIlroy at 603.929.1166.
ABOUT TBR
Technology Business Research Inc. is a leading independent technology market research and consulting firm specializing in the business and financial analyses of hardware, software, professional services, telecom and enterprise network vendors, and operators. Serving a global clientele, TBR provides timely and actionable market research and business intelligence in formats that are tailored to clients' needs. Our analysts are available to further address client-specific issues or information needs on an inquiry or proprietary consulting basis.
TBR has been empowering corporate decision makers since 1996. For more information please visit http://www.tbri.com.