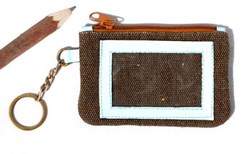 Recent sales at our stores have proven that there is a growing demand for Fair Trade products.
Fairfax, VA (PRWEB) August 29, 2013
In the second-most important consumer spending season of the year other than the winter holidays, Fair Trade Winds sales reports indicate that back-to-school shoppers are seeking out fair trade products as they transition from summer to fall in their six stores across the U.S.
By shopping for back-to-school gear and other goods at Fair Trade Winds, consumers can feel confident that the products were made in safe working conditions and that they are ethically sourced. "Recent sales at our stores have proven that there is a growing demand for Fair Trade products," said Paul Culler, co-founder. "Customers are learning the great stories behind each product, especially now after the garment factory tragedies in Bangladesh and Cambodia."
Shoppers can find handmade children's backpacks, zippered pouches, lunch sacks, messenger bags and totes, twig pencils, sustainable leather journals, tree-free paper, desk accessories, and a variety of fall clothing and accessories at the stores.
As members of the Fair Trade Federation of North America, Fair Trade Winds and its suppliers are fully committed to fair trade and seek to build long-term relationships with the people who make their products. This commitment assures stability, full transparency in the supply chain, that workers are paid promptly and fairly, and that their rights are valued. Members also promote cultural identity and encourage environmentally sustainable practices.
In 2007, Lois and Paul Culler founded Fair Trade Winds in Bar Harbor, ME as a marketplace for meaningful, handcrafted goods made by smaller artisan cooperatives from all corners of the globe. Since then they have opened stores in Fairfax, VA, Stony Brook, NY, Seattle, WA, Springfield, OH, and Jamestown, RI.
Fair Trade Winds seeks to empower customers to become an integral part of a global, cooperative effort to benefit artisans, farmers, and the environment. Craftspeople and farmers work in safe and empowering conditions, children's rights are ensured, and they are encouraged to invest time and money into their talents, land, families, and communities.
Fair Trade Winds is a member of Green America and the Fair Trade Federation. For more information visit http://www.fairtradewinds.net or email info(at)fairtradewinds(dot)net.