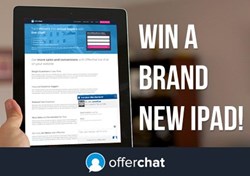 Nevada, USA (PRWEB) August 29, 2013
Offerchat is ecstatic to announce an out of beta launching in a few weeks' time. Given the one year of nonstop software development and subtle brand marketing, the Offerchat team has decided to host a huge contest giving away a brand new iPad as a prize to website owners to mark this long-anticipated milestone.
Fresh from its recent T-shirt giveaway two weeks back, Offerchat is expecting to receive quite a fanfare way impressive than the first one because of the extravagant prize of an iPad.
How to join the contest giveaway (Mechanics)

Like the Offerchat fan page
Key in personal details: name and email for contact purposes
Send email invites to friends for more entry points
Share the contest to get additional entries
More shares mean more entries, which also mean increased chance of winning the iPad. However, there is one important requirement that a participant must have in order to qualify. He or she must have Offerchat live chat widget on the website he or she owns. At the end of the draw, the team will select 10 contest participants with the most entries, send them an email requiring them to submit their website and proof of site ownership and pick the winner based on these two criteria.
Offerchat live chat has been making the rounds lately on the web, reaching out to both web influencers and ecommerce site owners, even reviewed by notable software blogs on the internet. New back-end features and improved live chat process to look forward to:
New no-hassle signup process
Instant widget customization
Agent management setting
Easy navigation panel
After a year of bringing a live chat tool up to scratch, Offerchat live chat development team is finishing the new control panel and soon ecommerce websites will have the best customer communication tool to help them convert visitors to actual buyers.
Join the contest giveaway here: http://contest.io/fb/fwlhbiw6/.
About
Offerchat is a free premium live chat for websites specifically designed to help online businesses increase their conversions and sales. It's easy to add chat widget with full features that's 100% free. Offerchat is brewed to perfection at Click Labs, Inc., a company based in Cebu City, Philippines. The company specializes in driving search marketing and social media traffic, social web app development and conversion optimization. Each product or service specifically helps small/medium website owners increase online visibility and improve online sales.