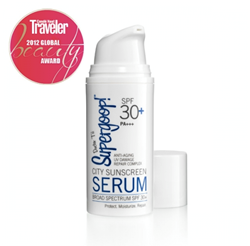 These must-haves will keep travelers organized and looking their best no matter their destination this holiday weekend.
Miami, FL (PRWEB) August 30, 2013
Arrive Chic, an online boutique featuring stylish travel accessories, is preparing for the end of summer and announcing its list of Top 5 Labor Day Must-Haves. Stylish travelers can get all of their essential travel items plus those elegant extras all in one place. Arrive Chic offers top name brands on everything, from luggage and bags to beauty products and jewelry. "These must-haves will keep travelers organized and looking their best no matter their destination this holiday weekend," says owner Ashley Vaccarino.
Top Five Labor Day Must-Haves:
1. Bagadocious Pointy Shoe Bag with quote, "The way to a woman's heart is through her sole": Protects shoes while traveling and keeps them, and the clothes packed around them, looking their best.
2. Expanded All Nappa Document Case by Royce Leather: Holds all important travel documents, money, and credit cards in one place, has a hidden traveler's check holder that can be used as a small wallet, and comes in several bright colors.
3. Supergoop! SPF 30 Anti-Aging City Sunscreen Serum: A multi-purpose beauty product that is anti-aging, moisturizing, and a sunscreen all in one so it saves space in a travel bag. It also is free of oxybenzone, parabens, and fragrances. 
4. X5 Superlite 7010 Folding Travel Hair Dryer: One of the best compact hairdryers on the market as it is only 6" long when handle is folded, weighs less than a pound, is dual voltage, produces smooth hair, and has faster drying time.
5. The Gold Set by Graphic Image: A coordinated set of travel accessories including a luggage tag, passport cover, and jewelry roll, in metallic leather which will compliment any color suitcase you have and stand out in a crowd.
For more information or to purchase any of the Top 5 Labor Day Must-Haves from Arrive Chic visit arrivechic.com. All purchases over $150 receive free ground shipping.
About Arrive Chic
Arrive Chic (http://arrivechic.com/) was born to provide one-stop online shopping for fashion-forward jet-setters. With a buying background from Barneys New York and Saks Fifth Avenue, and a fully stamped passport, owner Ashley Vaccarino saw this business as her calling. Unlike many other travel goods websites, Arrive Chic offers only stylish travel products, as they believe form is just as important as function. Travel handbags and accessories are obvious must-haves for any trip; but the true traveling diva needs to look fabulous head to toe, no matter where she is. Therefore, they also offer travel-friendly jewelry, beauty products, and (arriving soon) comfortable & chic shoes and clothing. Arrive Chic can also be found at facebook.com/arrivechic, pinterest.com/arrivechic, on twitter @arrivechic, and on instagram @arrivechic.