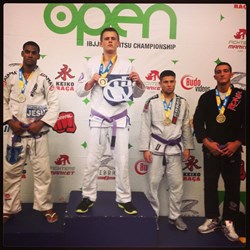 Baltimore, MD (PRWEB) August 30, 2013
Devon Delbrugge of Crazy 88 BJJ walked home with both a Gold and Silver medal after competing in the 2013 Boston International Open held on August 24.
Brazilian Jiu Jitsu is a grappling sport similar to wrestling that incorporates the use of submissions and Judo takedowns.
The current largest sanctioning body of the sport is the International Brazilian Jiu Jitsu Federation (IBJJF). The IBJJF is known for hosting the most elite competitions in the sport including opens and championships held in a variety of international cities.
The Boston International Open is one of the top IBJJF tournaments for gathering jiu jitsu talent from around the world but particularly the East Coast. With this comes a team of competitors from Crazy 88 including Devon Delbrugge.
After an impressive 2012 season including two No Gi World Championship medals and two Gi World Championship medals, Delbrugge advanced to the rank of Purple belt.
Competing at Middle Weight, Delbrugge took Gold in his division. Later in the day he went on take take Silver in the Absolute - the event in which the gold medalists in each division of that belt compete against one another.
Reflecting on Devon's season so far, Head Instructor, Julius Park said, "He trains hard and it shows. Despite only recently being promoted he is competing against seasoned belts and is able to take gold. He is still young and his skills will only continue to develop."
To learn more about the competitors of Crazy 88 - Elkridge visit http://www.BaltimoreMixedMartialArts.com or call (443) 283-1450. To find out more about Crazy 88 - Owings Mills visit http://www.Baltimore-MMA.com or call (410) 999-1064.