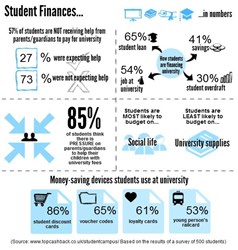 London (PRWEB UK) 30 August 2013
• Over half (57%) of university students do not receive any financial help from their parents

57% of students are worried about financing their university studies
68% of students have a budget plan organised to help manage the costs of university, with social life being the area they are most likely to budget on and university supplies the least
65% of students are taking out a student loan to help cover the cost of university
54% of students have a job whilst studying to help fund the costs of university
The Survey results are broken down further in the 'Student Finances…In Numbers' info-graphic.
Student case studies are available for interview and are happy to appear in news coverage with photos. Summaries below:
Female student who has funded her degree course solely through maintenance grants, no loans. She has worked every summer between university semesters, usually working six or seven days a week, and has saved for university since she was 11. Her parents haven't helped fund her studies, they did however loan her some money for her mortgage. She employs a variety of money-saving techniques in order to make her money go further at university, for example using TopCashback, sticking to strict budgets when going on nights out with friends and avoiding nightclubs with entry fees. She also works whilst studying and buys own-brand supermarket food. In order to make the most of the money she does have she also chooses bank accounts with high interest rates or bonuses.
Female student has taken out a loan from Student Finance to cover her tuition fees and received a maintenance loan and grant to cover living costs. Her parents haven't help fund her studies, however she has chosen to live at home for her third year and therefore doesn't have to pay rent or buy food. Her accommodation during her first two years was paid for by her student loan. In order to make her money go further she budgets for everything to ensure she always has enough for what she needs. She generally doesn't buy something unless it's on sale or she can get a discount, and always uses TopCashback to earn money back on top if she can.
A twenty year old final year student, studying for a BA (Hons) in Forensic Computing at the University of Central Lancashire. He has independently funded university through his student loan as well as founding his own retail consultancy. He also works full-time every summer in order to avoid asking for financial help from his parents. The student often does his shopping on websites that offer discounts such as TopCashback.co.uk. He bought a pay-as-you-go mobile-phone from O2, which after cashback cost him just £3.55. He enjoys using the TopCashback Snap & Save mobile-phone app. "I love Snap & Save. I use it to buy my groceries at Sainsbury's so I can get nectar points and it's handy for making tasty meals on a student's budget." He's also able to treat himself to meals out in restaurants such as Pizza Express by converting his cashback into Tesco Clubcard Points through one of the TopCashback bonus pay-out options, for which he gets an extra 5% on top of his cashback.
Male student who has funded university with a full maintenance grant, student loan and bursary. He sticks to a weekly budget which he will withdraw at the beginning of each week and then "once it's gone, it's gone!" He'll try and put away a bit of cash each week so that it accumulates over the year. Last Christmas he managed to save over £300 through this strategy. He finds that it helps to withdraw his cash rather than pay for everything on his debit card, because it's easy to lose track of his spending. He has employed other methods to help save money such as working part-time as a waiter and checking TopCashback before shopping online. He also benefits from the Tesco Clubcard scheme and has used his points to book train tickets at a reduced price. Choosing a Tesco mobile account has helped him build his Tesco Clubcard points over time.
Notes to Editors
Survey results based on a response of 500 university students
[1] Reference
Media contact
For information about TopCashback.co.uk, interviews, comments, consumer spending patterns insight and access to 100s of consumer case studies, please contact press(at)topcashback(dot)co.uk or call Francesca Williamson or Lindsey Casey on 020 3489 6464.
About TopCashback (http://www.topcashback.co.uk)
TopCashback.co.uk, the UK's most generous cashback site, passes up to 105% of the commission rate that retailers pay it - to advertise their products and services – back to its members. The site has more than 2.1 million members, which is more than double the amount of members in the last two years alone.
TopCashback includes more than 3,900 merchants, from high street big names to smaller, niche online sellers. £4 million cashback is earned by TopCashback's members each month, with £600 million worth of transactions passing through it each year. Consumers effectively get, on average, an 8% discount on each transaction they make simply by clicking through to their chosen retailer via TopCashback.co.uk, instead of going to the retailer's website directly.
TopCashback also provides consumers with discount codes and vouchers, which can be used in conjunction with earning cashback. In 2012 it launched seven product-comparison tools, covering credit cards and insurance policies, which uniquely find the cheapest, and most appropriate, products for consumers' needs while paying the commission rate to the individual as a cashback rebate on top.
In January 2013 TopCashback was the first cashback site to provide consumers with access to money-saving services through mobile phone camera technology with its 'Snap & Save' service, which gives shoppers cashback on in-store purchases.
In June 2013 TopCashback launched 'TopCashback Plus', which enables members to get the very best, unrivalled rewards from their shopping. Plus members receive 105% cashback on all purchases and fast-track customer service in addition to a host of other features. The 'TopCashback Classic' free service is still available to members inclusive of all its original benefits.
TopCashback.co.uk was named Britain's 35th fastest growing private company in The Sunday Times Virgin Fast Track 100, in December 2012. In 2011 it ranked fifth in the league.