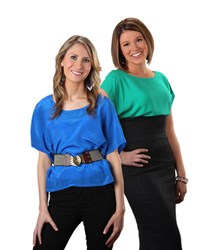 Boise, ID (PRWEB) August 30, 2013
More than a day of recognition for U.S. workers, Labor Day has become a significant holiday spending event to usher in the end of summer. From backyard barbecues to early-bird buys on Christmas wish lists, a median household expenditure of over $600 can make Labor Day challenging for unprepared consumers.
TheKrazyCouponLady.com founders offer a valuable blend of tools and tactics to help keep Labor Day affordable:
Store it. White pants and lawn furniture aren't the only items to pack away with the onset of cooler weather. Labor Day is also a signal to stock up on your favorite seasonal produce and start freezing, dehydrating and canning fruits and vegetables to dole out over the winter months.
Stay close. Even though Labor Day traditionally marks the end of the summer travel season, consider delaying your trip a week or two to avoid the roughly 30 million other travelers crowding roads and airports for a mass holiday exodus. Spend the long weekend at home and host a barbeque, potluck or picnic. If travel is on the docket, consider discount sites like Travelzoo.com for a roundup of the best deals on lodging, flights, car rentals and more.
True meaning. Get the family together and explore the century-long history of Labor Day. A trip to your local museum or a fun art project is a good starting point. From there, consider attending a street fair, parade, fireworks display or one of many other special community events. Your local chamber of commerce website or school and community event calendars are helpful for finding events in your area.
A watchful eye. Whether you're in search of grocery deals for a backyard bash, or just getting a jump on holiday gift shopping, many retailers offer end-of-summer sales. When you do find that perfect deal, price match with other stores to get the most for your money.
Cash back. Celebrate your own hard work this year by shopping through Ebates for Labor Day. Members get up to 25% cash back from 1,600 major retailers nationwide. Cash back automatically accrues in an Ebates account, and all new members receive a $10.00 gift card of their choice with their first purchase of $25.00.
Stay current. If you're struggling for ideas, turn to the TheKrazyCouponLady.com for more coupons, sales and tips on how celebrate and save this Labor Day.
Heather Wheeler and Joanie Demer, founders of TheKrazyCouponLady.com and authors of Pick Another Checkout Lane, Honey! are money saving, bargain shopping and frugal living experts. With their knowledge and savvy, they've sold over 50,000 books, garnered 6 million viewers per month at http://www.thekrazycouponlady.com, over 975,000 Facebook fans and more than 39,000 Twitter Followers.