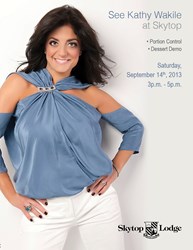 We are thrilled to bring Kathy Wakile and Melissa Gorga to Skytop Lodge and give our guests, as well as locals, an opportunity to meet them in person.
Pocono Mountains, Pennsylvania (PRWEB) August 31, 2013
Skytop Lodge is proud to offer two months dedicated to nourishing the mind, body, and spirit, in September and October 2013. During this series, resort guests & the general public have access to a variety of health and wellness programs.
Highlights include Kathy Wakile from Real Housewives of New Jersey hosting a dessert demonstration of "Dolce Della Dea" cannoli kits - held on Saturday, September 14, 2013 from 3-5pm EST, emphasizing portion control (cannoli kits on sale at the event).
Ending the October month, resort guests and the general public can also see Melissa Gorga, on Sunday, October 27, 2013 from 3-5pm EST for a book signing of her new book called "Love Italian Style" and autograph/photo session (books on sale at the event).
Tickets to either event are $50 per person for hotel guests, and $75 for the general public. Included in the ticket price is:

Access to the event.
Hosted cocktail receptions following (5:30-6:30pm), and cash bar available until 9pm.
Guests must present a ticket upon arrival for entry to the events. Tickets can be purchased by visiting http://skytop.com/Events or calling the hotel at (855) 345-7759.
About Skytop Lodge:
Opened in 1928, the majestic Skytop Lodge sits atop a hill surrounded by 5,500 acres of lush landscape, including an 80 acre lake, championship golf course, and exquisite gardens. The resort boasts multiple restaurant & dining outlets, 193 guest rooms, a modern conference center, and world renowned adventure center offering boating, skiing, ice-skating, zip lining, rock climbing, tennis, volleyball, extensive nature trails, and more.
####