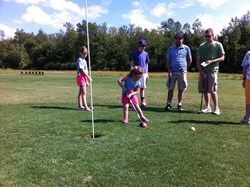 Fun for All Ages!
Akron, N.Y. (PRWEB) August 29, 2013
Destroyer Park Golf is pleased to announce its event space and catering offerings. Destroyer Park Golf has recently opened as the first ever Park Golf course in the U.S. and is excited to be offering its space for parties and gatherings.
Located in Akron, N.Y., Destroyer Park Golf is in a convenient spot for those from Buffalo or Rochester wanting a unique and fun party venue. From a family picnic to a corporate luncheon, Destroyer Park Golf can be the host. They have hosted birthday parties, corporate lunches, gatherings, social groups, community groups, family reunions and more.
Destroyer Park Golf will do as much or as little as the guest would like, as far as providing the food. They can provide guests with a package of Park Golf, the venue and catering, if needed.
Destroyer Park Golf has also become a draw for individuals with special needs and families with special needs children. Their facility provides a fun and engaging outdoor activity the entire family can enjoy. Their youngest player to date is three and the oldest to date is 89. Park Golf truly is for everybody and anyone.
To get started on planning a great event that all guests and groups can enjoy, call Destroyer Park Golf today to make arrangements, (716) 262-9139.
About the company:
Destroyer Park Golf is the first ever Park Golf course in the United States. Located conveniently between Rochester and Buffalo, Destroyer Park Golf is not a typical public golf course. Destroyer Park Golf was designed for "Park Golf," a Japanese phenomenon that has recently made its way to the United States. Park Golf can be described as a smaller version of golf. The smaller scale allows for players of all ages and abilities. The location makes it one of the best public golf courses in WNY. For more information, please visit their website at http://www.destroyerparkgolf.com.