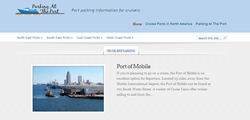 Miami, Florida (PRWEB) August 31, 2013
ParkingAtThePort.com is a new website that features cruise parking information divided into four categories of North American cruise ports: North East Ports, South East Ports, Gulf Coast Ports and West Coast Ports. Every cruise port page has cruise port information and a map of the cruise port. Parking at the Port has compiled data from multiple sources to create a website that features not just Cruise Port information but information on hotels, transportation services, tour companies, local dining, shopping and other local attractions as well, making it a valuable tool for cruise travelers.
Parking at the Port features over two dozen of the largest cruise ports including Port of Miami, Port of Seattle, Port of Boston, Port Canaveral and Baltimore Cruise Port. The majority of major cruise ports offer a wide variety of parking options. ParkingAtThePort.com has compiled cruise parking information into one site to help consumers plan for their cruise parking needs. With information such as acceptable payment options and which cruise parking locations are the most secure, ParkingAtThePort.com can help take the surprise out of the cruise parking experience.
For more information about cruise parking please visit http://www.parkingattheport.com .
About Us
ParkingAtThePort.com is a valuable port information resource to check out before you cruise. From information on Port Canaveral Parking to Long Beach Port Parking, ParkingAtThePort.com covers all the major ports. Parking at the Port is ideal for finding information on planning cruise parking planning and also is an ideal resource for cruise visitors with its information on local attractions.