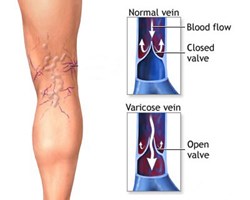 The Comprehensive Vein Treatment Center is announcing the launch of a new public health campaign about venous insufficiency.
Hamilton Square, NJ (PRWEB) August 31, 2013
The Comprehensive Vein Treatment Center is announcing the launch of a new public health campaign about venous insufficiency. According to the Hamilton Square, NJ based vein center, millions of Americans are at risk for this potentially serious form of vein disease. The center hopes the information they provide will equip the public to effectively treat and prevent this disorder.
Dr. Ahmad, a leading vein doctor at the Comprehensive Vein Treatment Center, encourages patients to understand the causes and risk factors for venous insufficiency. "This condition occurs when veins in the legs are unable to effectively transport blood back to the heart. Being overweight, smoking, and sitting or standing in the same position for extended periods of time can all lead to venous insufficiency. Making changes in these areas can help individuals lower their risk and improve their vascular health."
The center is utilizing social media to distribute information on the risk factors, symptoms, and treatment of venous insufficiency. Interested readers can learn more by visiting the center's Facebook and Twitter pages. This campaign will run throughout August.
For more information, visit: http://www.cvtc.net.
Varicose Vein Treatment Options
Varicose veins and spider veins are extremely common in men and women. While spider veins are very small, reddish veins on the surface of the skin, varicose veins are much larger, bulging, tangled veins that may appear bluish in color. Men and women suffer from varicose veins, although women are much more likely to have them.
Today, patients have access to a number of effective varicose vein treatment options. Advancements in technology and medicine have led to the development of effective, minimally invasive treatments that produce optimal results with few side-effects or downtime. These treatments include sclerotherapy, radio frequency ablation, phlebectomy, and endovenous laser ablation.
About the Comprehensive Vein Treatment Center
The Comprehensive Vein Treatment Center provides the Hamilton Square, NJ area with a personal approach to vein care. The team of close-knit professionals that staffs this vein center understands the value of personal attention when it comes to treatment. Dr. Imtiaz Ahmad, a fellow of the American College of Surgeons and of the Royal College of Surgeons, heads the center. Dr. Ahmad is certified by the American Board of Phlebology and uses the most technologically-advanced methods available to treat all forms of venous disease. Patients can benefit from both noninvasive and minimally invasive treatments that are safe and effective. Dr. Ahmad has completed more than 2500 venous closure procedures since 2004. This expertise, combined with the Center's commitment to providing a personally tailored treatment program for each patient, allow every visitor to enjoy the best in vein care.
Comprehensive Vein Treatment Center
Cvtc.net