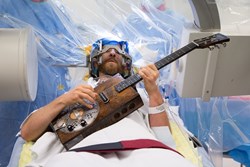 I didn't go through ALL OF THIS to give up now. I went through it so that I can record this album and keep living as a musician.
Los Angeles, California (PRWEB) August 30, 2013
Millions watched as local musician and actor Brad Carter was required to remain awake during a seven-hour brain surgery at UCLA. Brad played his guitar in the operating room enabling surgeons to position and adjust an electrode being placed into his Thalamus to help control his tremors.
A musician most of his life, Brad has struggled for the past seven years with a movement disorder known as Essential Tremor. The tremors severely affected his right arm, hand, and fingers, rendering his finger-picking style of guitar playing almost impossible. There is no cure for Essential Tremor, but Brad's recent surgery had given him hope that he'd be able to achieve a life-long dream of recording a studio album. "Many of the songs on this album were written during my seven years of confusion about what exactly was happening to me. Four of those years spent chasing the misdiagnosis of Lyme disease. At one point I was taking up to 5 antibiotics at a time and thought I was dying," Carter says. "This album will allow me to share that journey with the world. Hopefully, it'll inspire a few people out there who have gone through something similar."
A grassroots fundraiser campaign was launched on August 12, 2013 to raise $45,000 to fund Brad Carter's album. The music community and many celebrities including skateboarding legend Tony Hawk, Vh1's Lance Krall, actor Gerry Bednob and others have joined together to help Brad achieve his dream – recording an album.
The campaign ends the morning of September 12, 2013 and Brad must raise his $45,000 goal or he will receive nothing from the campaign. To view the perks, such as, a Deering "Good Time" Banjo, a visit to the recording studio, and a ticket to a private listening party at the Gibson Showroom in Beverly Hills, visit http://www.BradCarterKickstarter.com. You can also view video updates from surprise celebrity guests; upcoming guests include Heidi Cortez (Sirius/ Maxim / Playboy), Jes MacAllan (ABC's Mistresses), Lilli Simmons (Cinemax's Banshee) and more to come.
In spite of the initial surgery, Carter's condition has not improved enough and he is considering a second surgery. "My tremors are not improving at the rate that is needed for my music. We will most likely need a second surgery to place the electrodes in more exact locations," says Brad. "Deep brain stimulation surgery requires exact placement and it is a long process to ensure that this happens. I would have liked this to be as easy as flipping a switch, but the brain is very complicated. I am pleased that my doctors at UCLA are dedicated to make this work. "
Even with the possibility of a successful second surgery, Brad's condition will continue to deteriorate and it's only a matter of time before he loses control of the fine motor skills in his hands. Carter plans to record his first studio-length album before that happens. "I didn't go through ALL OF THIS to give up now. Sitting around and wasting precious time while I lose the ability to control my own hands and fingers is not an option for me. I went through it so that I can record this album and keep living as a musician, artist, and an actor! I will fight it till the end." Carter says.
Superstar skateboarder Tony Hawk is one of many cheering Brad on, "He's an awesome guitarist and a hilarious dude. He deserves a chance before he can't actually play, but let's hope that medical technology allows him to keep playing." Tony, along with actors Lance Krall (Vh1's "Free Radio"), and Gerry Bednob (40 Year Old Virgin), have made recorded video messages on Brad's campaign page, and donated some amazing perks, including an autographed skateboard from the legend himself, autographed photos and even a personalized Vine video from Gerry Bednob. "I don't want you to think he's asking for charity," says Bednob, "he has this serious problem called Essential Tremor. He wants to do this album before it gets too progressive and he won't be able to do it. This is a very nice way of asking."
Full story, including photos from the UCLA brain surgery: http://www.BradCarterKickstarter.com.
About Brad Carter: Originally from Macon, Georgia, Brad Carter is an accomplished artist, actor, and musician currently residing in Los Angeles. He has played guitar and performed stand-up comedy in nightclubs. Carter has had roles in major network TV shows such as "Longmire", "CSI: New York," "House," "Castle," "The Mentalist," "Bones," and "Criminal Minds," and cable favorites, "True Blood" (HBO), "Justified" (FX), and "Dexter" (Showtime). Carter has appeared in 30 television shows, movies and short films and more than two dozen commercials. For more information please visit: http://www.BradCarter.me or http://www.BradCarterKickstarter.com.
About Essential Tremor: Essential Tremor is a progressive neurological disease, a type of involuntary shaking movement in which no cause can be identified, and with no known cure. The true cause of essential tremor is still not understood, but it is thought that the abnormal brain activity that causes tremor is processed through the thalamus.
About Deep Brain Stimulation: DBS involves the implantation of a brain pacemaker, which sends electrical impulses to specific parts of the brain, and is a way to inactivate the thalamus without purposefully destroying the brain. DBS provides moderate relief for approximately 90% of patients with essential tremor.