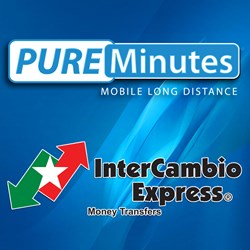 This alliance allows us to facilitate the communication of our customers with their family, when sending money to their families.
New York, NY (PRWEB) August 30, 2013
Pure Minutes and InterCambio Express are pleased to announce a partnership which unites quality international calling solutions with one of the leading money transfer services in America. The deal introduces Pure Minutes' prepaid international calling services to InterCambio Express customers across the United States seeking an affordable way to stay in touch with their family and friends.
Established in 1999 and based in Indiana, ([InterCambio Express) is a money transmitter company specializing in wiring money to Mexico, Central America, South America and the Caribbean.
InterCambio Express takes pride in providing state of the art systems technology along with the highest standards in superior bi-lingual service in order to serve the diversified needs of the Latin America market. Quality and customer service are at the heart of their business as they improve people's lives by making reliable financial transactions simple, convenient and cost-effective.
With a presence in twenty states in the United States including Indiana, Washington, Oregon, Idaho, Texas, Colorado, Kansas, Missouri, Iowa, Minnesota, Wisconsin, Illinois, Michigan, Indiana, Ohio, Kentucky, Tennessee, South Carolina, North Carolina, New Jersey, and Washington D.C for InterCambio Express's customers, finding a location has never been more convenient. As InterCambio Express expands their product range into additional services such as bill payments and top-ups, their dedication to customer satisfaction supports their alliance with Pure Minutes.
"Through this partnership with InterCambio Express we can extend Pure Minutes signature brand of affordable and high-quality long distance calling to more consumers all around America." shared Sr. Business Development Executive Arturo Velasco. Isaac Torres, CEO and founder of InterCambio Express shared "This alliance allows us to facilitate the communication of our customers with their family, when sending money to their families"
Users benefit from the simplified process of making wire transfers to loved ones around the world, and being able to purchase quality international calling at affordable rates, both at the same location.
Pure Minutes offers users the ability to make international calls from any phone regardless of their current provider which means users do not have to change their current landline or mobile cell phone number. Subscribed callers simply dial a local access number and through modern "Automatic Caller Identification" software, Pure Minutes can recognize a subscribed caller making the need for complicated PIN codes a thing of the past. To learn more about Pure Minutes and their exclusive system which eliminates the need for complicated PIN numbers visit our website at (pureminutes.com)
About Pure Minutes
Pure Minutes is a leading provider of prepaid international long-distance calling solutions. We provide an affordable communication solution that offers flexibility, portability and ease-of-use for both landline and mobile users. Pure Minutes offers competitive international calling worldwide with no hidden fees, no maintenance fees, no contract required, and minutes that never expire. Pure Minutes service is sold on the web and through regional and national retailers including MoneyGram, InterCambio Express, and payXchange and is available to customers worldwide in English and in Spanish and accepts payments through all major credit cards and Paypal.
Follow us on Twitter (@PUREMinutes), Facebook (facebook.com/PUREMinutes), and LinkedIn (PUREMinutes, LLC) for up to the minute updates.
###