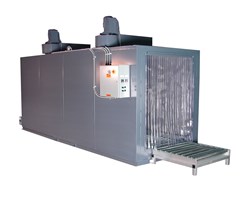 Sheffield Village, OH (PRWEB) August 31, 2013
Benko Products, Inc., a leading innovator in the process heating industry, announces its Sahara Electric Conveyor Oven. Although this particular oven was designed for curing plastic molds, it can be used for various heating applications.
The oven is designed to heat up to 350˚F. It can be used for many heating applications: curing, drying, pre-heating and more. The oven is ideal for FIFO (first in, first out) drums or totes.
Precise temperature control is achieved through the ovens' unique controls system, which includes a thermocouple actuated, digital temperature controller; motor control pushbuttons; ON-OFF heat switch; LED pilot lights; and adjustable over-temperature control. Available in carbon steel or stainless steel, Sahara Electric Conveyor Ovens are available in a variety of air-flow patterns to suit an end-user's specific needs.
Benko Products has been manufacturing Sahara Industrial Ovens for over 25 years and has thousands of ovens successfully operating in the field today. A two-year warranty is offered on all ovens. For more information on the Sahara Oven line, contact Benko Products, Inc. at (440) 934-2180 or go to http://www.benkoproducts.com.
About Benko Products, Inc.
Benko Products, Inc. is a privately held company based out of Sheffield Village, OH. Benko Products was founded in 1983 by pioneer John Benko, the inventor of the Sahara Hot Box® drum warming oven. Benko's leading product lines include industrial ovens; G-RAFF safety platforms; mezzanine safety gates and chemical storage systems. Benko is also the parent company to GREEN Access & Fall Protection, a leading manufacturer of gangways for tank trucks and rail cars as well as self-leveling stair applications.