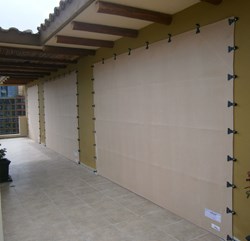 Playa del Carmen, Quintana Roo, Mexico (PRWEB) August 30, 2013
After an extended review of nearly every different type of hurricane protection in Cancun, they were quoted as saying "We are convinced that Hurricane Solution provides the safest solution on the market."
This state of the art protection system was used to cover their hurricane refuge on site used by their guests. The Mexican Government has designated that hurricane refuges protected with systems provided by Hurricane Solution have a higher designation, which means they are deemed safer than refuges protected with any other types of systems. This designation is known as a "Diamond Level Refuge", and the Westin Cancun is the first hotel in Cancun to take this step.
A tropical storm can occur at any time, and it is the responsibility of a hotel owner to ensure that their guests are not put in harm's way. The Westin has taken this step of converting their refuge to a "Diamond Level" refuge, because it puts the safety of its guests above all else. Gilbert Guzman, head installer for Hurricane Solution explains:
"The beauty of living in the Caribbean is the year round warm weather, but that also means we get frequent tropical storms and hurricanes. The Westin Cancun has taken the necessary precautions ahead of time, so that when these storms happen, their guests are protected."
Hurricane Solution is able to offer this level of protection because it is the only certified installer in the entire country. "This means that we were trained by the home office in Florida" explains Guzman. "In the case of this job, Hurricane Solution was hired to design and install the system, protecting their hotel's most important part, its guests. The design was done to provide optimal protection while still aesthetically blending with the existing architecture."
The Westin Resort & Spa is a lovely tropical paradise located in the heart of the Cancun Hotel Zone. Guests enjoy luxurious rooms and amenities as well as full service spa treatments, beautifully designed interiors and outdoor lounging spaces that work together with the natural scenery to create a one of a kind retreat from the business of life. Now they are one of the few resorts in the Caribbean that offer their guests Diamond Level hurricane protection in Cancun, giving their guests even more piece of mind.
For more information the hotel can be contacted at: http://www.starwoodhotels.com.