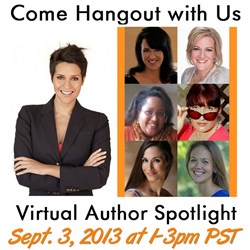 San Francisco, CA (PRWEB) August 29, 2013
Six authors will be featured as they debut the launch of their books during the September 2, 2013, Virtual Bestseller Author Spotlight. The event, which will be held from 1:00 pm to 3:00 pm (PST), will be hosted and presented by Alicia Dunams, founder of Bestseller in a Weekend. Both authors who attended the Bestseller in a Weekend workshop and independent authors will participate in the virtual event.
The authors who will be spotlighted include: Rachael Pontillo, author of Love Your Skin, Love Yourself: Achieving Beauty, Health, and Vitality from the Inside Out and Outside In; Kris Gilbertson, who will feature her book Podcasting for Promotion, Positioning, and Profit: How to Generate Leads, Traffic, and Sales by Partnering with iTunes; Jeanine Byers and her book, Moon Healing for Mystics and Healers: How to Use the Phases of the Moon to Create the Life You Want; and Elizabeth Hamilton and her debut book, Las Vegas Strip Bargains: How to Find Coupons and Deals on Shows, Hotels, Buffets and Attractions. Also featured are Allison Carver, author of Cooking Therapy: The Recipe For Improving Communication with Your Children through Cooking, and Michelle McCullough with her book, The Time Blueprint for Entrepreneurs: Mastering the Five Time Categories That Will Help You Work Smarter NOT Harder In Your Business.
During the virtual event, books will be available for purchase through Amazon.com, with special bonus offers for purchase. In addition, the featured authors will discuss the book-writing process and share excerpts and tips from their books.
Visit http://bestsellervirtualparty.com to register to attend this virtual event or learn more information about the featured authors and their books.
####
Alicia Dunams is the founder of Bestseller in a Weekend, a live online workshop that helps business professionals write, publish and market a non-fiction book in record time. Dunams also coaches her clients on how to promote their book and achieve bestseller status. To contact Alicia Dunams, please visit http://www.aliciadunams.com.