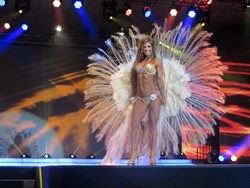 New York, N.Y. (PRWEB) August 30, 2013
The "WBFF Championships" is a major event for fitness industry professionals--recognizing competitors for their fierce determination and unwavering commitment to achieving peak physical fitness. For Cellucor Athlete, Model, and Certified Personal Trainer, Jen Jewell, this event was a significant milestone in her fitness career. Jewell surpassed more than 60 contestants, earning 2nd place in the world for the Pro Diva Fitness Competition.
When asked about her journey towards the 2013 competition, Jewell commented, "This year marked my third appearance on a World Championship stage. After earning my Pro Card in June 2011, I competed at WORLDS in 2011, earning 6th place; WORLDS 2012, earning 4th place, and this past weekend earning 2nd place." She further remarked, "I am thankful to have improved upon my placing at each and every show I have entered. Each year I have received feedback from the judges and from one show to the next have worked on improving."
Over 60 contestants participated in this year's WBFF Pro Diva Fitness Competition, and each contestant was judged on personality, style, overall beauty, stage presence and physique. Judges broke down the evaluations into three different categories—overall marketability, physique, and stage presence, poise and confidence. Marketability accounted for 40 percent of the total score, physique for another 40 percent, and stage presence, poise, and confidence comprised 20 percent.
Although this year was the first year Jen Jewell took home 2nd place, the Cellucor Athlete is no stranger to the competitive sphere. The spunky athlete relied on a tried and true approach to achieve her stage-ready body; intense training, dieting and supplementing with Cellucor products. In addition to a strict regimen, Jewell attributes her high score to staying healthy year-round. "By living a healthy and balanced lifestyle year-round and supplementing smart, I found it was much easier this year to prepare for hitting the stage," commented Jewell. "I adhere to a healthy, balanced approach to fitness and nutrition year round- there are no quick fix gimmicks or restrictive diets in my repertoire, that's for sure."
The WBFF World Championships invite fitness professionals and models around the world to compete in both amateur and pro-events. In addition to winning an official WBFF title, participants have a special opportunity to network with industry influencers, build their following and establish a personal brand.
Cellucor is an award-winning, safe and effective supplement brand known for its premier weight loss and sports nutrition product offerings. Cellucor products can be found at GNC, Bodybuilding.com, Vitamin Shoppe and select retailers internationally. Visit Cellucor.com or connect with the company on Facebook or Twitter.
###